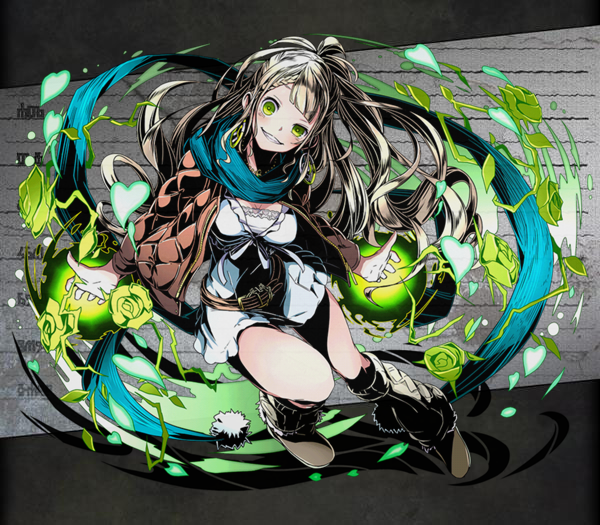 Unit

Name

East Devil Queen, Oriens
Attribute
Wind
Cost
50
No.
963
Rarity
★6
Race
Fairy
Max Lv
99
Basic Stats

Initial HP

997

Final HP

2244
Exp Type
Type 5
Exp Curve
5000000
Initial ATK
1141
Final ATK
3083
Fodder Exp
Lv.*630
Price
Lv.*420
Skills
Leader Skill
Name
Wind Rise: Assault IV
Effect
3x ATK to Wind type units
Active Skill
Name
Foolish
Default Cooldown
45
Min Cooldown
30
Effect
Attacks from all units are 2x stronger for one turn, and seals allies AS for 99 turns.
Normal Skill 1
Name
Comp Windmill
Activation
Effect
Super Immense Wind damage to a single enemy
(8.0x ATK)
Normal Skill 2
Name
Drastic
Activation
Effect
Immense Wind damage to all enemies
(3.0x ATK)
Passive Skill
Name
Effect
How to Obtain
Friend Scratch
No
Rare Scratch
No
Other
Evolved from Oriens
Dungeon
Evolution
Friend Race
Friend Level
Friend Element
Evolution Quest
Any
Lv.40+
Wind
Trial of Wind: Holy Class (風の試練: 聖級)
Link Bonus
Min Lv.: HP+145 ATK+48


Max Lv.: HP+559 ATK+186

Link Race Bonus
HP+500
Link Skill
{{{link skill}}}
Link Passive
Link Panel Up: Wind Heart
Increases Wind and Heart panels' appearance rate by 2%.
Link Material
Link Cost as Base Unit
282936
Unlink Cost as Base Unit
16976
Story
そいつらを返してもらう。教団本部、単身で乗り込んだのは永久竜。満面の笑みを浮かべる東魔王オリエンス。コイツらにもう用はないの。乱暴に解放される四体。喋れないコイツらは、永遠にあの日のお父さんを待つのね、けひひ。怒りを隠せない永久竜、一触即発の状況を制止したのは世界評議会を抜けた風才だった。
"I'll have you return them." At the Headquarters of the Cult, the Eternal Dragon had broken in alone. The East Devil Queen Oriens was all smiles. "I have no use for these guys anymore." The four bodies were released roughly. "These guys who won't talk can just wait forever for their father, right? Kehihi." The Eternal Dragon was unable to conceal her anger, but that critical situation was stopped by the Wind Genius who had left the World Council.
Trivia
She ranked 12th, 11th, and 38th in the 5th through 7th official Divine Gate popularity polls.

Oriens: Divine Academy ranked 35th in the 7th popularity poll.

Her cup size is F.
She spurred on the Founder into having a matching look with her so that she could buy her own clothes[1]. Though, when Paimon found out afterwards, Oriens was half-killed by her. [2]
She is childhood friends with Yang Guifei, the Wind Beauty, Fallen Wind Genius, Laplace and Sylph, Queen of Wind Fairies.
"Kehihi" is her unique way of laughing.
↑

Oriens might be referring to futago koude , which translates to twin coordinating style. This means that Crowley and her would wear matching outfits so that Oriens wouldn't have to buy her own clothes.
Gallery
↑

Translation: "Kehihi"

↑

Translation: "Kehihi"
---
Community content is available under
CC-BY-SA
unless otherwise noted.