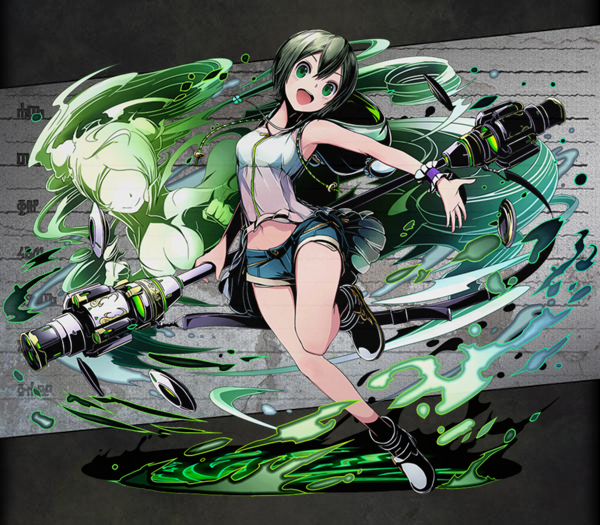 Unit

Name

Wind Staff-Wielding Criminal, Midori
Attribute
Wind
Cost
30
No.
896
Rarity
★7
Race
Human
Max Lv
99
Basic Stats

Initial HP

1654

Final HP

2482
Exp Type
Type 5
Exp Curve
5000000
Initial ATK
719
Final ATK
2158
Fodder Exp
Lv.*2000
Price
Lv.*2000
Skills
Leader Skill
Name
Wind Rise: Life Shift II
Effect
2.5x HP and 2x ATK for Wind type units.
Active Skill
Name
Dragon Accel
Default Cooldown
38
Min Cooldown
33
Effect
Deal Wind type damage equal to 50x user's ATK to a single enemy, and reduces allies' active skill cooldown by 5.
Normal Skill 1
Name
Syl: Fēngshén
Activation
Effect
Large Wind damage to all enemies.
(1.8x ATK)
Normal Skill 2
Name
Märchen Pain Stage
Activation
Effect
Large Dark damage to a single enemy.
(2.3x ATK)
Passive Skill
Name
Effect
How to Obtain
Friend Scratch
No
Rare Scratch
No
Other
Evolved from Midori, Staff-User of the Gale
Dungeon
Evolution
Friend Race
Friend Level
Friend Element
Evolution Quest
Link Bonus
Min Lv.: HP+173 ATK+57


Max Lv.: HP+666 ATK+222

Link Race Bonus
HP+500 ATK+10%
Link Skill
{{{link skill}}}
Link Passive
Link Double Assault II
When attacking with two attributes or more in the same turn,
the unit's attack is increased by 1.2
Link Material
Link Cost as Base Unit
2227066
Unlink Cost as Base Unit
155894
Story
開かれた扉の神に抗った少女もまた、戦犯者として指名手配されていた。竜王により逃がされた先は竜界。失った仲間達を思い出しては、逸る気持ちを抑えていた。そんな彼女を尋ねる初老の男性。その腕輪、見せてくれませんか。力失き声と穏やかな笑顔。風咎棍士ミドリの時は動き出す。今度こそ、一緒に走るんだ。
The young girl who rebelled against the God of the Opened Gates too, was treated as a war criminal and placed on the wanted list. She escaped to the Dragon World with the Dragon Queen. Thinking of her lost comrades, she had to restrain herself from acting rash. The one who approached her in that state was an elderly man. "Could you show it to me, that wrist band?" Voice that had lost power and a gentle smile. Wind Staff-Wielding Criminal, Midori's time started moving. "This time surely, we'll run together."
Trivia
She ranked 8th, 21st, 16th, 23rd, 5th, 13th, and 8th consecutively in the seven official Divine Gate popularity polls.
She is a high school student.
Her cup size is C.
Her favorite food is cucumber.
In the Princess Punt Collaboration Event she is shown to use her driver [Fonshen] as a makeshift "helicopter".
Gallery
---
Community content is available under
CC-BY-SA
unless otherwise noted.