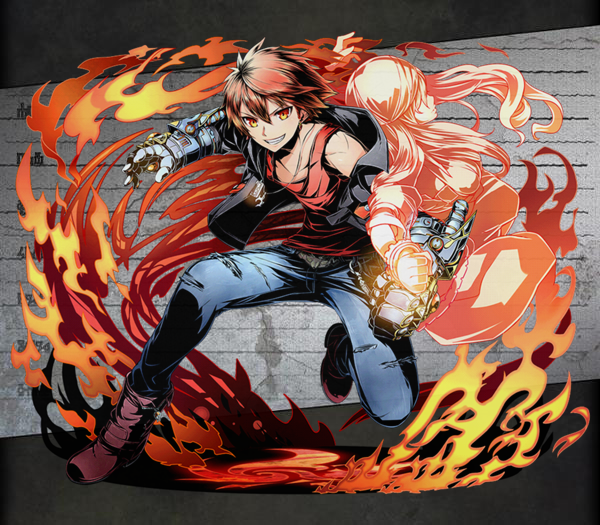 Unit

Name

Flame Gauntlet-Wielding Criminal, Akane
Attribute
Fire
Cost
30
No.
894
Rarity
★7
Race
Human
Max Lv
99
Basic Stats

Initial HP

1580

Final HP

2371
Exp Type
Type 5
Exp Curve
5000000
Initial ATK
753
Final ATK
2208
Fodder Exp
Lv.*2000
Price
Lv.*2000
Skills
Leader Skill
Name
Fire Rise: Life Shift II
Effect
2.5x HP and 2x ATK for Fire type units.
Active Skill
Name
All's Lava
Default Cooldown
35
Min Cooldown
30
Effect
Turns all panels into Fire panels, and attacks from Fire type units are 1.5x stronger for one turn.
Normal Skill 1
Name
Ignite: Rit
Activation
Effect
Large Fire damage to a single enemy.
(2.3x ATK)
Normal Skill 2
Name
Flare Eruption
Activation
Effect
Super Immense Fire damage to all enemies.
(4.0x ATK)
Passive Skill
Name
Effect
How to Obtain
Friend Scratch
No
Rare Scratch
No
Other
Evolved from Akane, Gauntlet-User of the Blaze
Dungeon
Evolution
Friend Race
Friend Level
Friend Element
Evolution Quest
Link Bonus
Min Lv.: HP+57 ATK+115


Max Lv.: HP+222 ATK+444

Link Race Bonus
HP+500 ATK+10%
Link Skill
{{{link skill}}}
Link Passive
Link Double Assault II
When attacking with two attributes or more in the same turn,
the unit's attack is increased by 1.2
Link Material
Link Cost as Base Unit
2227066
Unlink Cost as Base Unit
155894
Story
再会した三人の友達と、その身を力に変えた四人の大精霊と共に打ち破った聖なる入口。だが、評議会の策略により少年は咎人となり、その身を湖畔に隠していた。渡せなかった聖剣を抱き寄せた湖妖精は言う。聖戦に、行くんだね。炎咎甲士アカネは消えた大き過ぎる背中を見つめる。父さんの想いを、無駄にはしない。
Three friends who reunited, together with the Four Great Fairies who changed their bodies into power, broke the Holy Entrance. However, under the scheme of the World Council the young man becomes a criminal. Hiding at the Lake, the Lake Fairy embraces the Holy Sword she was unable to pass on and said. "So you're going to the Holy War." Flame Gauntlet-Wielding Criminal, Akane looks towards the far too large back that had disappeared. "I don't want to let my father's wish be wasted."
Trivia
He ranked 16th, 28th, and 27th in the first 3 official Divine Gate popularity polls consecutively, and 11th, 18th, and 16th in the 5th, 6th, and 7th popularity polls.
He is a high school student.
He lived with his mother.
His favorite food is chilled tomato. His specialty is making chilled tomato.
His fashion is American casual. [1]
[Divine Academy] Akane profile: Contrary to his appearance, he is a family-oriented young boy as he lives together with his mother. He especially likes chilled tomato, and his specialty is making chilled tomato. In reality, he has some kind of relation with his science teacher, Pavlov...? [2]
Gallery
---