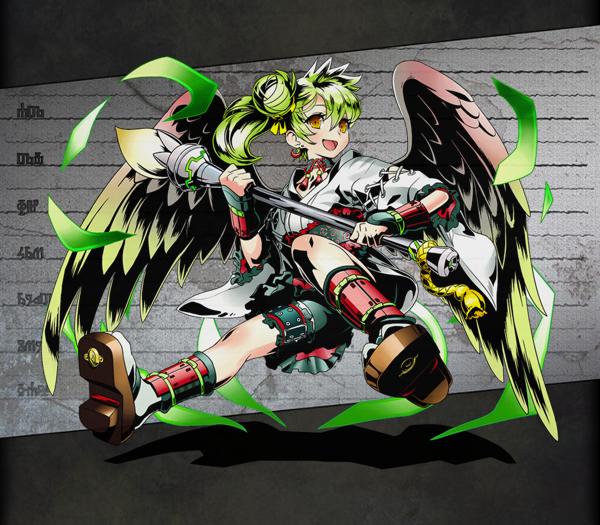 Unit

Name

Wind Flower Beast Ume
Attribute
Wind
Cost
15
No.
716
Rarity
★5
Race
Beast
Max Lv
99
Basic Stats

Initial HP

1131

Final HP

1505
Exp Type
Type 4
Exp Curve
3500000
Initial ATK
834
Final ATK
1502
Fodder Exp
Lv.*1750
Price
Lv.*650
Skills
Leader Skill
Name
None to Wind
Effect
All Void panels automatically become Wind Panels.
Active Skill
Name
Warbler on Plum
Default Cooldown
40
Min Cooldown
25
Effect
Deal Wind type damage equal to 15x user's ATK to all enemies. Affected by enemy element and defense.
Normal Skill 1
Name
Kisaragi: Nishiki
Activation
Effect
Wind damage to a single enemy.
(1.6x ATK)
Normal Skill 2
Name
Activation
Effect
Passive Skill
Name
Trap Cancel: Move IV
Effect
Cancels all Move traps up to Lv.4.
How to Obtain
Friend Scratch
No
Rare Scratch
No
Other
Evolved from Ume
Dungeon
Evolution
Friend Race
Friend Level
Friend Element
Evolution Quest
Link Bonus
Min Lv.: HP+126 ATK+42


Max Lv.: HP+488 ATK+162

Link Race Bonus
HP+250 Critical ATK+10%
Link Skill
{{{link skill}}}
Link Passive
Link Panel Down: None
Decreases Void panels' appearance rate by 10%.
Link Material
Link Cost as Base Unit
114974
Unlink Cost as Base Unit
6898
Story
いつまでも訪れない少年の代わりに、葉音一つ聞こえない静寂が訪れていた。少年の身に、何かが。敷き布団に横になったのは、嫌な予感を眠らせる為。目を閉じた矢先、微かに聞こえた足跡。一気に近づく足音。慌て飛び起き外に出ると、そこには、息を切らした一匹の猫が。僕が、アイツの代わりに、戦うにゃん。
Instead of the boy who had yet to visit her no matter how long she waited, only a quietness, in which not even the sound of a single leaf could be heard, came to her. "What happened to that boy?" She laid on her bed to make this bad feeling go to rest. But just as she closed her eyes, she heard the faint sound of footsteps. The footsteps got closer and closer. In a panic she rushed to the door, and saw a a cat panting. "I'll fight in his place, meow."
---
Community content is available under
CC-BY-SA
unless otherwise noted.