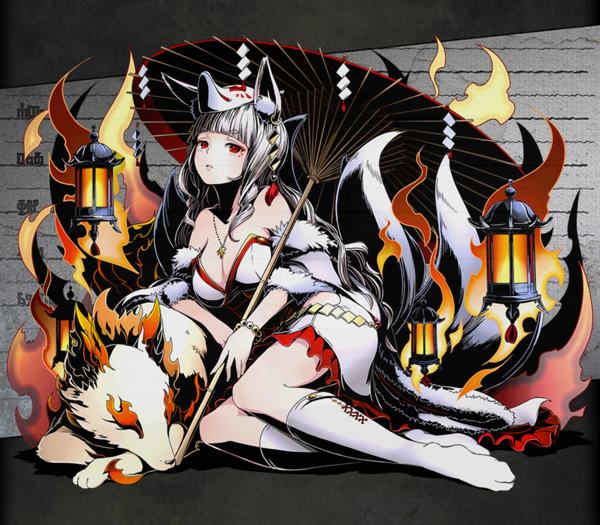 Unit

Name

Fushimi, the Fox Mother
Attribute
Fire
Cost
35
No.
640
Rarity
★6
Race
Beast
Max Lv
99
Basic Stats

Initial HP

673

Final HP

1899
Exp Type
Type 4
Exp Curve
3500000
Initial ATK
349
Final ATK
1011
Fodder Exp
Lv.*500
Price
Lv.*50
Skills
Leader Skill
Name
Beast Rise: Shift II
Effect
2x HP/ATK to Beast units.
Active Skill
Name
Fox' Marriage
Default Cooldown
25
Min Cooldown
20
Effect
Heals 6 SP.
Normal Skill 1
Name
Energy Heal: Homura
Activation
Effect
Heals 15% of HP.
Normal Skill 2
Name
Activation
Effect
Passive Skill
Name
Trap Cancel: Damage IV
Effect
Cancels all damage traps up to Lv.4
How to Obtain
Friend Scratch
No
Rare Scratch
No
Other
Evolved from Fushimi
Dungeon
Evolution
Friend Race
Friend Level
Friend Element
Evolution Quest
Link Bonus
Min Lv.: HP+45 ATK+90


Max Lv.: HP+174 ATK+349

Link Race Bonus
HP+250 Critical ATK+10%
Link Skill
{{{link skill}}}
Link Passive
Link Trap Cancel: Damage II
Cancels all damage traps up to Lv.2
Link Material
Link Cost as Base Unit
198955
Unlink Cost as Base Unit
11937
Story
母狐フシミの手を引いたのは少し歳の離れた伴侶となる男狐。これからは、僕があなたの傍にいます。天気雨は止み、そして舞い踊る花びら達。今日という日は、新たな旅立ちを迎えた母へ、娘からの些細な贈り物だった。私はもう大丈夫、だからお母さん、幸せになってね。二度目の嫁入りを、晴天は祝福していた。
The one who took the Fox Mother, Fushimi's hand was a male fox of a slightly different age, who would become her partner. "From now onward, I'll stay by your side." The sun shower stopped, and flower petals danced. On this special day, to her who would set off on a new journey, her daughter gave a trivial gift. "I will be fine, so mother, please be happy." The clear skies gave its blessings to her second marriage.
---
Community content is available under
CC-BY-SA
unless otherwise noted.