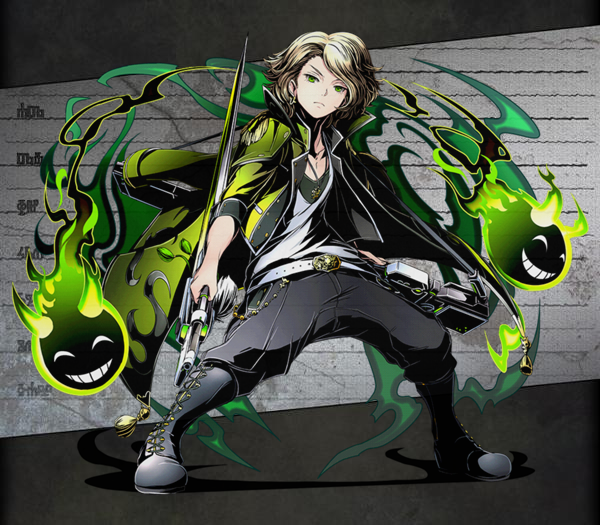 Unit

Name

Yasutsuna, the Wind Demon General
Attribute
Wind
Cost
25
No.
632
Rarity
★6
Race
Demon
Max Lv
99
Basic Stats

Initial HP

983

Final HP

2950
Exp Type
Type 5
Exp Curve
5000000
Initial ATK
1013
Final ATK
3040
Fodder Exp
Lv.*630
Price
Lv.*420
Skills
Leader Skill
Name
Demon Rise: Life III
Effect
2.5x HP for Demon type units.
Active Skill
Name
SP Heal II: Short
Default Cooldown
16
Min Cooldown
7
Effect
Recovers 4 SP.
Normal Skill 1
Name
Yasutsuna: Nishiki
Activation
Effect
Wind damage to a single enemy.
(1.6x ATK)
Normal Skill 2
Name
Childish Slash
Activation
Effect
Immense Wind damage to a single enemy.
(6.0x ATK)
Passive Skill
Name
Effect
How to Obtain
Friend Scratch
No
Rare Scratch
No
Other
Evolved from Yasutsuna
Dungeon
Evolution
Friend Race
Friend Level
Friend Element
Evolution Quest
Link Bonus
Min Lv.: HP+129 ATK+43


Max Lv.: HP+500 ATK+166

Link Race Bonus
ATK+10%
Link Skill
{{{link skill}}}
Link Passive
Link Full Life: Attack Ⅱ
At maximum HP attack power is increased by 1.2x.
Link Material
Link Cost as Base Unit
142968
Unlink Cost as Base Unit
8578
Story
666議会からの勧誘、六魔将に選ばれるのに時間はかからなかった。風の魔将として、一段と風を吹かせる彼ももちろん、赤い月の夜、不夜城へ招かれていた。主役ってのは、遅れて登場するもんだぜ。計画的な遅刻、開いた女王の間。直後、寝ぼけた緑の女王の自立型ドライバにより、赤い月より赤く染められていた。
With an invitation from the 666 Council, it didn't take long before he was elected as one of the Six Demon Generals. As the General of Wind, he who could blow stronger winds that before, was called too to the Nightless City on the night of the red moon. "The main character always makes his entrance late." Planning to be late, he opened the doors to the Empress's chamber. Immediately after that, he was dyed even redder than the red moon, by the half awake Green Empress's autonomous type driver.
Trivia
He ranked 63rd in the 6th official Divine Gate popularity poll.
One of the game designer's favorite characters.
Compared to Windy who takes one hour and fifty-nine minutes to style his hair, he is quick. As he is a fashionable person who relatively perms his hair frequently, he just has to use airy wax and comb through his hair with his fingers, with a "I nailed it today," in the morning.
Briar Rose, the Green Empress hates him unconsciously.
He taught Jinsoku how to make tamago kake gohan because Jinsoku was hungry.
Jinsoku calls him "strange cushion" because Jinsoku had fallen on him.
Gallery
---
Community content is available under
CC-BY-SA
unless otherwise noted.