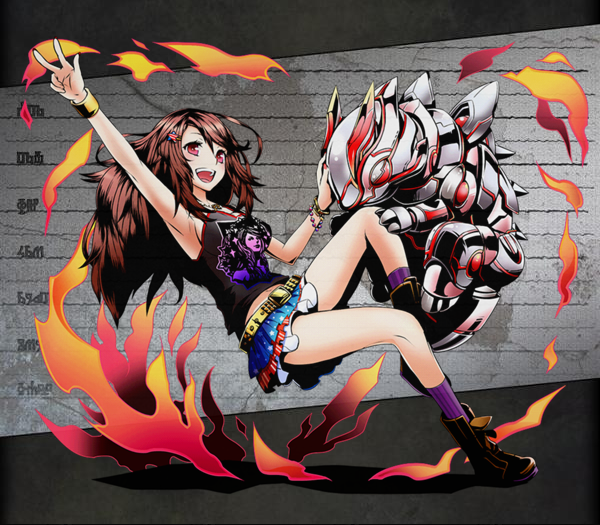 Unit

Name

Americana, the Fire Civilization Dragon
Attribute
Fire
Cost
20
No.
500
Rarity
★6
Race
Dragon
Max Lv
99
Basic Stats

Initial HP

1049

Final HP

1877
Exp Type
Type 5
Exp Curve
5000000
Initial ATK
727
Final ATK
2180
Fodder Exp
Lv.*1750
Price
Lv.*650
Skills
Leader Skill
Name
Drago-Rise: Assault II
Effect
2x Atk to Dragon units.
Active Skill
Name
Vulcan: Boost
Default Cooldown
27
Min Cooldown
18
Effect
Attacks from Fire type units are 1.25x stronger for one turn.
Normal Skill 1
Name
Tera-Salamander
Activation
Effect
Fire damage to a single enemy.
(1.6x ATK)
Normal Skill 2
Name
Full Drago Fire Strike
Activation
Effect
Large Fire damage to all enemies.
(1.8x ATK)
Passive Skill
Name
Effect
How to Obtain
Friend Scratch
No
Rare Scratch
No
Other
Dungeon Drop
Dungeon
Ancient Palace Americana
Evolution
Friend Race
Friend Level
Friend Element
Evolution Quest
Link Bonus
Min Lv.: HP+42 ATK+84


Max Lv.: HP+162 ATK+325

Link Race Bonus
BOOST ATK+15%
Link Skill
{{{link skill}}}
Link Passive
Link Chain: Fire
1.0x follow up Fire damage to all enemies.
Link Material
Link Cost as Base Unit
114974
Unlink Cost as Base Unit
6898
Story
目には目を、火には火を。炎明竜アメリカーナが赤子の様に手懐けた【テラ・サラマンダー】は常界の炎を燃やし尽くした。来るべき日の約束を果たすことなく一途な誓いは散り、眠りについた眠れぬ獅子は二度と会えぬ友に手を引かれた。全ては聖暦の王の責務を果たさんとする君主の、聖なる扉への到達と引き換えに。
Fire with fire, an eye for an eye. Clinging to the Fire Civilization Dragon Amerikana like a baby, [Tera-Salamander] incinerated the flames of the Common World, leaving nothing behind. With her promise of the "day that would come" still unfulfilled, the unwavering oath crumbled, and friends forever lost took the hand of the unsleeping lion who had gone to rest. It was all in exchange for getting their liege to the sacred door, so that he could carry out his responsibilities as the King of the Holy Age.
---
Community content is available under
CC-BY-SA
unless otherwise noted.