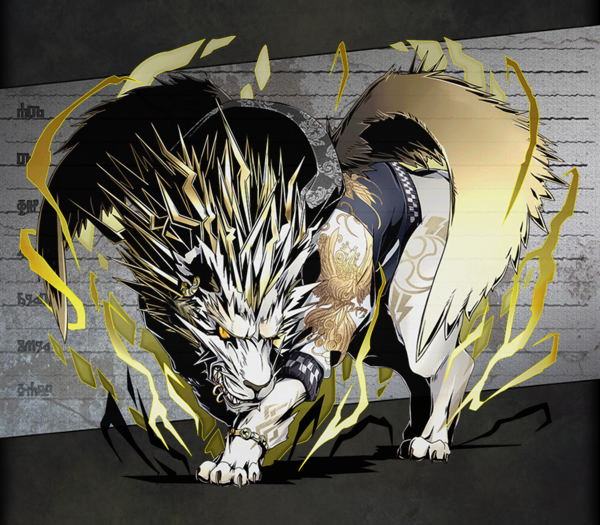 Unit

Name

Lion, the Clown Beast
Attribute
Light
Cost
25
No.
480
Rarity
★6
Race
Beast
Max Lv
99
Basic Stats

Initial HP

1267

Final HP

3800
Exp Type
Type 5
Exp Curve
5000000
Initial ATK
669
Final ATK
2178
Fodder Exp
Lv.*630
Price
Lv.*420
Skills
Leader Skill
Name
Light Beast Rise: Assault III
Effect
2.5x ATK to Light Beast units.
Active Skill
Name
All-less: Light
Default Cooldown
21
Min Cooldown
10
Effect
Turns all panels into Light panels.
Normal Skill 1
Name
Light Live
Activation
Effect
Large Light damage to a single enemy.
(2.3x ATK)
Normal Skill 2
Name
Clown Trick
Activation
Effect
Immense Light damage to all enemies.
(3.0x ATK)


BOOST: Turns two panels from the left into Light panels.

Passive Skill
Name
Effect
How to Obtain
Friend Scratch
No
Rare Scratch
No
Other
Evolved from Lion
Dungeon
Evolution
Friend Race
Friend Level
Friend Element
Evolution Quest
Link Bonus
Min Lv.: HP+173 ATK+21


Max Lv.: HP+666 ATK+83

Link Race Bonus
HP+250 Critical ATK+15%
Link Skill
{{{link skill}}}
Link Passive
Link Panel Up: Light II
Increases Light panels' appearance rate by 10%
Link Material
Link Cost as Base Unit
142968
Unlink Cost as Base Unit
8578
Story
枷と引き換えに得た翼、道化獣レオンは大空を翔けた。そう、この翼で再び自由な世界へと帰ることも出来た。だが、百獣の王は道化の魔法使いの側に。枷なんて何の役にも立たないこと、そんなことはきっと始めからわかっていた、なのに自分に翼を与えてくれた。枷よりも固い信頼、一人と一匹は種族を超えた家族へ。
With the pair of wings he obtained in exchange for a pair of shackles, the Clown Beast, Lion, soared in the skies. "Yes, I can return to a world of freedom once again with these wings." However, the King of the Beasts remained by the Clown Wizard's side. "He must have known from the start that these shackles would be of no use at all, and yet he still gave me these wings." His trust tougher than any shackle, a person and an animal formed a family, overcoming the gap between their races.
---
Community content is available under
CC-BY-SA
unless otherwise noted.