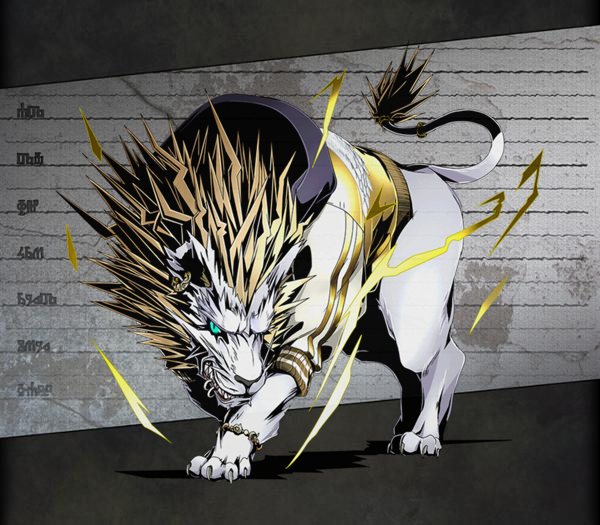 Unit

Name

Lion
Attribute
Light
Cost
20
No.
479
Rarity
★5
Race
Beast
Max Lv
35
Basic Stats

Initial HP

760

Final HP

1520
Exp Type
Type 3
Exp Curve
132934
Initial ATK
402
Final ATK
803
Fodder Exp
Lv.*500
Price
Lv.*300
Skills
Leader Skill
Name
Light Beast Rise: Assault III
Effect
2.5x ATK to Light or Beast units.
Active Skill
Name
All-less: Light
Default Cooldown
21
Min Cooldown
10
Effect
Turns all panels into Light panels.
Normal Skill 1
Name
Light Show
Activation
Effect
Light damage to a single enemy.
(1.6x ATK)
Normal Skill 2
Name
King of Beast
Activation
Effect
Immense Light damage to all enemies.
(3.0x ATK)


BOOST: Turns two panels from the left into Light panels.

Passive Skill
Name
Effect
How to Obtain
Friend Scratch
No
Rare Scratch
Yes
Other
Dungeon
Evolution
Friend Race
Friend Level
Friend Element
Evolution Quest
Any
Lv.35+
Light
Trial of Light: Legend (光の試練: 神級)
Link Bonus
Min Lv.: HP+123 ATK+15


Max Lv.: HP+245 ATK+30

Link Race Bonus
HP+200 Critical ATK+8%
Link Skill
{{{link skill}}}
Link Passive
{{{link passive}}}
Link Material
Link Cost as Base Unit
11875
Unlink Cost as Base Unit
593
Story
大都会に解き放たれたレオンは、憧れていたはずの外の世界に愕然とした。立ち並ぶビルの隙間から見上げた紫には申し訳程度に光ってみせる星屑達。そして、そんな星屑にさえ前足の届かない自分を嘆いた。もしも翼が生えていたら。その願い、僕が魔法で叶えましょう。獅子に翼を、百獣の王は引き換えの枷に応じた。
Released into the metropolis, Lion was appalled by the outside world it should have longed for. From the gaps between the tall buildings, the purple sky was filled with stars that shone so dimly one could feel sorry for them. The lion sighed at itself for being unable to even reach these stars with his paws. "If only I could grow a pair of wings." "That wish, I will grant it with magic." The King of Beasts grew a pair of wings, agreeing to be shackled in exchange.
---
Community content is available under
CC-BY-SA
unless otherwise noted.