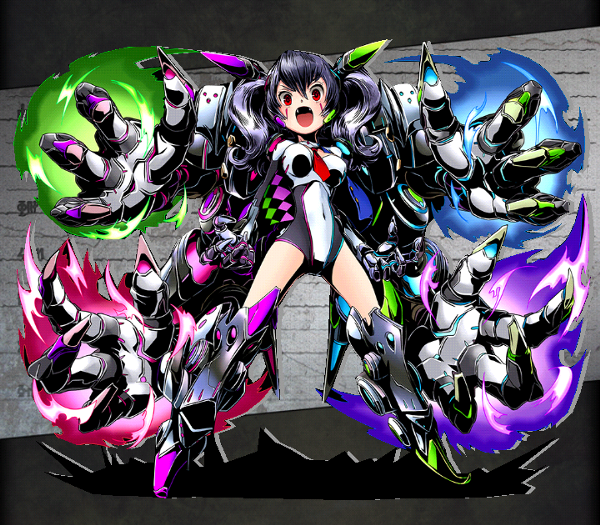 Unit

Name

Replica: Burst
Attribute
Void
Cost
50
No.
436
Rarity
★6
Race
Machine
Max Lv
99
Basic Stats

Initial HP

597

Final HP

2243
Exp Type
Type 5
Exp Curve
5000000
Initial ATK
876
Final ATK
3285
Fodder Exp
Lv.*630
Price
Lv.*420
Skills
Leader Skill
Name
Machina Rise: Shift III
Effect
2.5x HP/ATK for Machine-type units.
Active Skill
Name
Guard Remake
Default Cooldown
40
Min Cooldown
30
Effect
For one turn all damage received is reduced by 100%.
Normal Skill 1
Name
Farewell: Burst
Activation
Effect
Large Void damage to a single enemy.
(2.3x ATK)
Normal Skill 2
Name
Disaster Cry
Activation
Effect
Super Immense Void damage to all enemies.
(4.0x ATK)
Passive Skill
Name
Effect
How to Obtain
Friend Scratch
No
Rare Scratch
No
Other
Evolved from Replica
Dungeon
Evolution
Friend Race
Friend Level
Friend Element
Evolution Quest
Link Bonus
Min Lv.: HP+96 ATK+72


Max Lv.: HP+373 ATK+279

Link Race Bonus
ATK+5% BOOST ATK+7.5%
Link Skill
{{{link skill}}}
Link Passive
Link Shield: All II
All damage received is reduced by 3%.
Link Material
Link Cost as Base Unit
282936
Unlink Cost as Base Unit
16976
Story
発動したバーストモード、終わらない暴走、全て神々のごっこ遊び。天界、常界、魔界、そんな三つの世界が交わり産まれた統合世界。更にその上位なる世界との扉を開く為に【レプリカ:バースト】は聖なる入口<ディバインゲート>へと。黄昏の審判の答え、聖なる扉に隠された真実の前、聖暦の王は引き金を引いた。
The activation of the Burst Mode, the never ending berserk fury, everything was the god's make-believe play. Sky World, Common World, Demon World, the integration between three of those worlds had led to the birth of the Merged World. Furthermore, to open the gates to a World of a Higher Plane, 【Replica:Burst】 headed toward the Holy Entrance <Divine Gate>. In front of the truth hidden by the Holy Gate, the answer to the Twilight Judgement, the King of the Holy Age pulled a trigger.
---
Community content is available under
CC-BY-SA
unless otherwise noted.