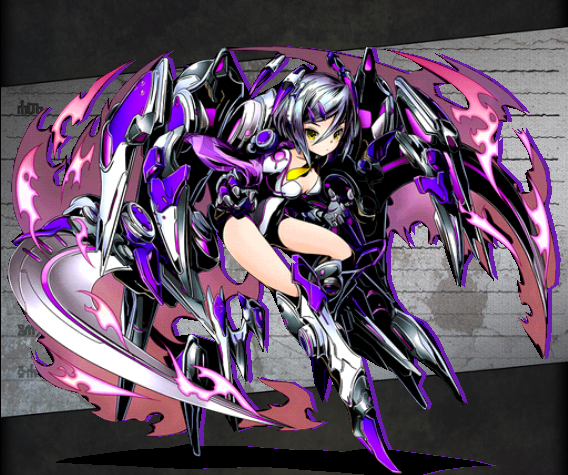 Unit

Name

Murakumo: Orochi
Attribute
Dark
Cost
25
No.
432
Rarity
★6
Race
Machine
Max Lv
99
Basic Stats

Initial HP

495

Final HP

2859
Exp Type
Type 5
Exp Curve
5000000
Initial ATK
769
Final ATK
2988
Fodder Exp
Lv.*630
Price
Lv.*420
Skills
Leader Skill
Name
Machina Rise: Assault II
Effect
2.5x ATK for Machine-type units.
Active Skill
Name
Purple Slash
Default Cooldown
15
Min Cooldown
5
Effect
For a single turn all enemies defense is reduced by 100%. Furthermore, the first two panels from the left become Dark panels.
Normal Skill 1
Name
Abyss: Demon
Activation
Effect
Super Extra-Large Dark damage to a single enemy.(CRT+39%)
(4.5x ATK)
Normal Skill 2
Name
Nightmare Circus
Activation
Effect
Extra Large Dark damage to all enemies.
(2.5x ATK)
Passive Skill
Name
Effect
How to Obtain
Friend Scratch
No
Rare Scratch
No
Other
Evolved from Murakumo
Dungeon
Evolution
Friend Race
Friend Level
Friend Element
Evolution Quest
Link Bonus
Min Lv.: HP+0 ATK+108


Max Lv.: HP+0 ATK+416

Link Race Bonus
ATK+5% BOOST ATK+7.5%
Link Skill
{{{link skill}}}
Link Passive
Link Rate Up Ⅱ
Increases the rate multiplier by 0.02 for every HANDS count.
Link Material
Link Cost as Base Unit
142968
Unlink Cost as Base Unit
8578
Story
オマエは罪な女だな、悪乙女へと鎌を振る闇刑者。あらあら、アタシはもっと罪な女よ。闇刑者へと杵を振る多元嬢。……。無言のまま死神へと襲いかかる自律兵器。私の時間を返してもらえるかしら、悪い夢なら魅せてあげるわ。その全てを薙ぎ払う死神。悪夢の曲芸は過ぎ去り【ムラクモ:オロチ】は目を覚ました。
« You're one sinful woman.» The dark executioner swang his scythe toward the devil maiden. « Oh dear, I'm even more sinful. » The multidimentional miss swang her mallet toward the dark executioner.«... » Still silent, the autonomous weapon assaulted the death god. « I wonder if you can give me back my time ? If it's a nightmare you want I will show you one. » The death god mowed all of them down. After the swift nightmare passed, [Murakumo : Orochi] opened her eyes.
---
Community content is available under
CC-BY-SA
unless otherwise noted.