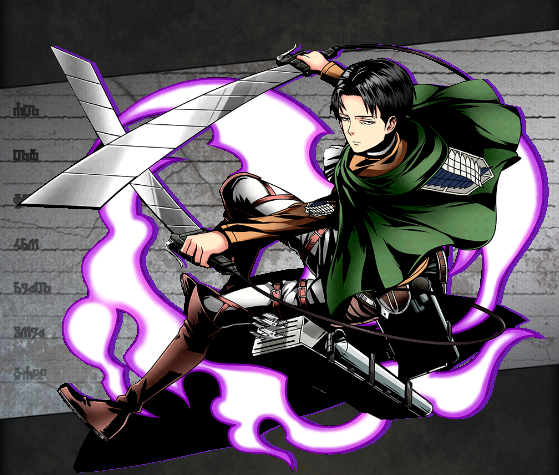 Unit

Name

Captain Levi
Attribute
Dark
Cost
25
No.
413
Rarity
★6
Race
Human
Max Lv
99
Basic Stats

Initial HP

997

Final HP

2743
Exp Type
Type 5
Exp Curve
5000000
Initial ATK
1157
Final ATK
2257
Fodder Exp
Lv.*275
Price
Lv.*230
Skills
Leader Skill
Name
Humanity's Strongest Soldier
Effect
2xHP/2.5xATK to Dark and Human units.
Active Skill
Name
Wings of Freedom
Default Cooldown
27
Min Cooldown
18
Effect
Attacks from Dark type units are 2x stronger for one turn.
Normal Skill 1
Name
Super-hard Blade Nape Aim
Activation
Effect
Void damage to a single enemy.
(1.6x ATK)
Normal Skill 2
Name
Your head is too High
Activation
Effect
Immense Dark damage to a single enemy.
(6.0x ATK)
Passive Skill
Name
Effect
How to Obtain
Friend Scratch
No
Rare Scratch
No
Other
Evolved from Levi
Dungeon
Evolution
Friend Race
Friend Level
Friend Element
Evolution Quest
Any
Lv.40+
Dark
Trial of Darkness: Holy Class (闇の試練: 聖級)
Link Bonus
Min Lv.: HP+0 ATK+108


Max Lv.: HP+0 ATK+416

Link Race Bonus
HP+250 ATK+5%
Link Skill
{{{link skill}}}
Link Passive
Link Double Assault IV
When attacking with two attributes or more in the same turn,
the unit's attack is increased by 1.6
Link Material
Link Cost as Base Unit
142968
Unlink Cost as Base Unit
8578
Story
押し寄せる無数の巨人を前に、思い知る人間の限界。ガスの残りも後僅か。まるで悪夢の様な光景に、笑いさえ込み上げる。だけど、若い兵士達を死なせるわけにはいかない。誰よりも多く、誰よりも早く、巨人を殺す。あの日誓った約束を果たす為に。リヴァイ兵長は、誰よりも高く飛び上がり、悪夢を切り裂いていく。
In front of the marching titans, humanity realizes its potential. The gear's gas is trailing behind. Even seeing this nightmarish sight, their hearts were filled with laughter. But still, he can't let the young fellow soldiers die. "I will be greater, faster than anyone when it comes to killing titans." His promise is kept till this day. The unmatched Lieutenant Levi slashed through the titans, and no one could be compared to him.
---
Community content is available under
CC-BY-SA
unless otherwise noted.