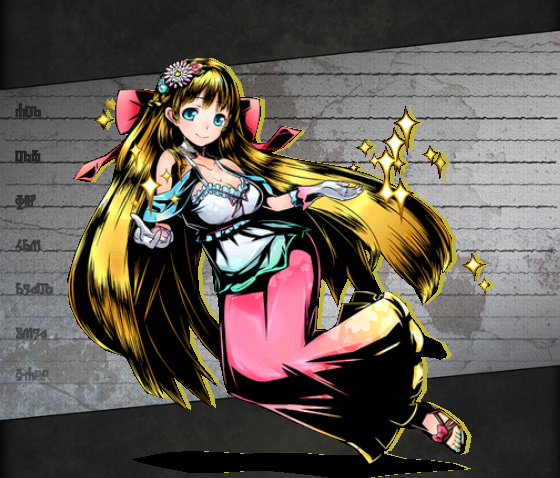 Unit

Name

Catherine
Attribute
Light
Cost
15
No.
396
Rarity
★5
Race
Fairy
Max Lv
50
Basic Stats

Initial HP

477

Final HP

1911
Exp Type
Type 5
Exp Curve
883884
Initial ATK
128
Final ATK
499
Fodder Exp
Lv.*1250
Price
Lv.*500
Skills
Leader Skill
Name
Spiri-Rise: Life
Effect
1.5x HP to Fairy units.
Active Skill
Name
Saint Wheel
Default Cooldown
33
Min Cooldown
23
Effect
Deals Light type damage equal to 20x user's ATK to Dark enemies.
Normal Skill 1
Name
Celes Light
Activation
Effect
Small Light damage to a single enemy.
(1.0x ATK)
Normal Skill 2
Name
Beauty Light
Activation
Effect
Heals 10% of HP.
Passive Skill
Name
Effect
How to Obtain
Friend Scratch
No
Rare Scratch
No
Other
Dungeon Drop
Dungeon
Catherine's Bathroom
Evolution
Friend Race
Friend Level
Friend Element
Evolution Quest
Any
Lv.35+
Light
Trial of Fire : Legend
Link Bonus
Min Lv.: HP+119 ATK+14


Max Lv.: HP+290 ATK+36

Link Race Bonus
HP+400
Link Skill
{{{link skill}}}
Link Passive
{{{link passive}}}
Link Material
Link Cost as Base Unit
9531
Unlink Cost as Base Unit
476
Story
笑顔の絶えない永遠郷<シャングリラ>に位置した光の美浴室にて、カタリナは光の祝福に包まれていた。続く争いの最中、ひと時の休息、彼女にとってはこの上ない至福の時。そんな彼女だけの時間に訪れた、予期せぬ来訪者。紫色のバラの花束を抱えた男性、すかさず投げつける桶。彼女には、何の悪気もなかった。
In the beautiful Light bathroom located in the town of <Shangri-La>, where there were only smiling faces, Catherine was wrapped in a holy light. After a day of turmoil, she took of a moment of rest, for her one of supreme bliss. While she enjoyed herself, an unexpected visitor arrived. There stood a man holding a bouquet of purple roses, that he quickly threw in the tub. But even so he held no ill intent toward her.
---
Community content is available under
CC-BY-SA
unless otherwise noted.