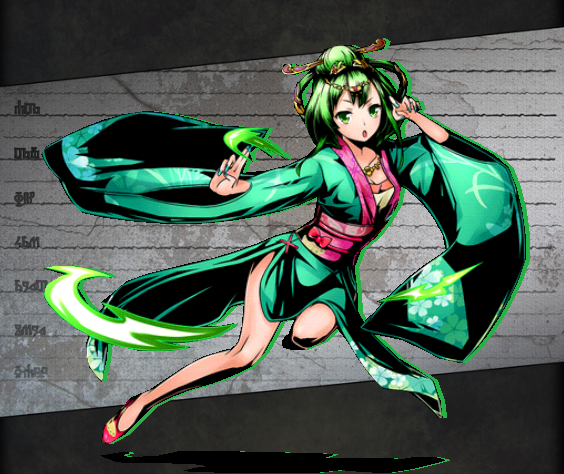 Unit

Name

Yang Guifei
Attribute
Wind
Cost
15
No.
394
Rarity
★5
Race
Fairy
Max Lv
50
Basic Stats

Initial HP

498

Final HP

1995
Exp Type
Type 5
Exp Curve
883884
Initial ATK
139
Final ATK
461
Fodder Exp
Lv.*1250
Price
Lv.*500
Skills
Leader Skill
Name
Spiri-Rise: Assault
Effect
1.5x ATK to Fairy units.
Active Skill
Name
Lychee Typhoon
Default Cooldown
33
Min Cooldown
23
Effect
Deals Wind type damage equal to 20x user's ATK to Water enemies.
Normal Skill 1
Name
Celes Wind
Activation
Effect
Small Wind damage to a single enemy.
(1.0x ATK)
Normal Skill 2
Name
Beauty Wind
Activation
Effect
Heals 10% of HP.
Passive Skill
Name
Effect
How to Obtain
Friend Scratch
No
Rare Scratch
No
Other
Dungeon Drop
Dungeon
Yang Guifei's Bathroom
Evolution
Friend Race
Friend Level
Friend Element
Evolution Quest
Any
Lv.35+
Wind
Trial of Wind: Legend (風の試練: 神級)
Link Bonus
Min Lv.: HP+89 ATK+29


Max Lv.: HP+217 ATK+72

Link Race Bonus
HP+400
Link Skill
{{{link skill}}}
Link Passive
{{{link passive}}}
Link Material
Link Cost as Base Unit
9531
Unlink Cost as Base Unit
476
Story
数年前の出来ごと、精霊会議にて議決された一人の妖精の天界<セレスティア>追放。反対に票を投じるも、守ってあげることが出来なかった後悔が、今でもヨウキヒを追いつめていた。同じ優しさの風や厳しさの風に吹かれて育った仲間との別れ、彼女は大切な人を失って初めて、天界の作られた歪な平和に気が付いた。
A few years ago, during a fairy conference an agreement led to the exile of a fairy from <Celestia>. Although she voted against it, Yang Guifei feels guilty that she couldn't protect her, and to this day it still haunts her. Separated from the tender but intense wind of her companion, she lost a person dear to her for the first time, and noticed the distorted peace of the sky world.
---
Community content is available under
CC-BY-SA
unless otherwise noted.