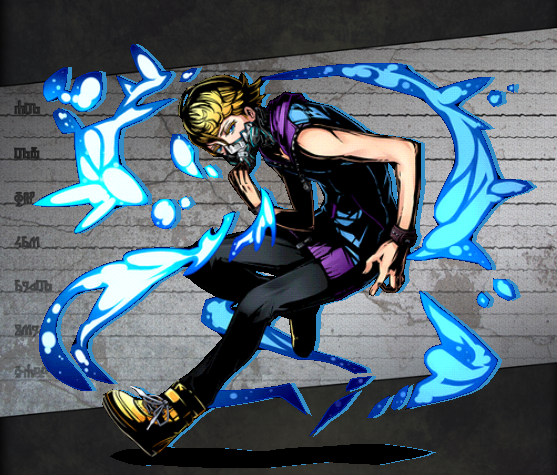 Unit

Name

Schrödinger, the Water Genius
Attribute
Water
Cost
25
No.
347
Rarity
★6
Race
Demon
Max Lv
99
Basic Stats

Initial HP

1358

Final HP

3637
Exp Type
Type 5
Exp Curve
5000000
Initial ATK
887
Final ATK
2216
Fodder Exp
Lv.*650
Price
Lv.*450
Skills
Leader Skill
Name
Theory of Aqua
Effect
All Fire panels automatically become Water Panels
Active Skill
Name
Strong: Aqua
Default Cooldown
27
Min Cooldown
18
Effect
Attacks from Water type units are 1.5x stronger for one turn.
Normal Skill 1
Name
Paul Dirac
Activation
Effect
Large Water damage to a single enemy.
(2.3x ATK)
Normal Skill 2
Name
Paradox Cat
Activation
Effect
Super Extra Large Water damage to a single enemy.
(4.5x ATK)


BOOST: Deal Water type damage equal to 1x user's ATK to a single enemy and restore HP equal to damage dealt.

Passive Skill
Name
Effect
How to Obtain
Friend Scratch
No
Rare Scratch
No
Other
Evolved from Schrödinger
Dungeon
Evolution
Friend Race
Friend Level
Friend Element
Evolution Quest
Any
Lv.40+
Water
Trial of Water: Holy Class (水の試練: 聖級)
Link Bonus
Min Lv.: HP+216 ATK+0


Max Lv.: HP+833 ATK+0

Link Race Bonus
ATK+10%
Link Skill
{{{link skill}}}
Link Passive
Link Panel Down: Fire Ⅱ
Decreases Fire Panels' appearance rate by 20%.
Link Material
Link Cost as Base Unit
142968
Unlink Cost as Base Unit
8578
Story
一夜にして666人の人間が殺された。2年前の冬、あまりにも悲惨な出来事は「蒼のクリスマス」と呼ばれた。シュレディンガーが覚えた初恋、交流という名の大量虐殺。逮捕された水才は【ディラック・ポール】で言葉を、口を閉ざした。そんな彼が再び姿を現したのは、世界評議会主催の新型ドライバ発表会だった。
666 people were killed in a single night - "Blue Christmas" was the name people gave that terrible incident of winter, two years past. The feeling of love that Schrödinger discovered was a communication called mass murder. With [Paul Dirac], the apprehended water genius closed off his words, and his lips. When he next showed himself, it was at the new driver conference hosted by the World Council.
Trivia
He ranked 34th and 48th in the 3rd and 6th official Divine Gate popularity polls.
He is old friends with Water Wave God, Surface and World Councilor Diablo.[1]
He fights by controlling water.
There is no comment in regards to him removing his mask during meals or whether he eats or not. Everything is up to fans to imagine.[2]
The reason why he conceals his mouth is to keep it closed about his first love.
The clothes he wears after entering the Grimoire Cult were prepared for him by Surface.[3]
Although not given his own unit for the April Fools event, he is the psychology teacher in Divine Academy. [4]
His name is often shorten to only "シュレ(Schrö)" when people are referring to him online.
Gallery
---
Community content is available under
CC-BY-SA
unless otherwise noted.