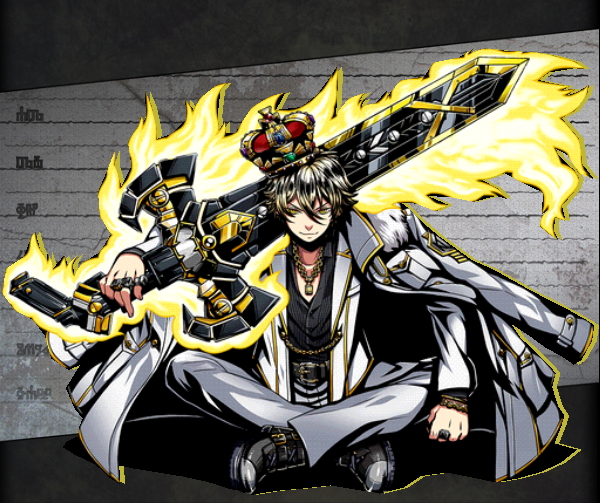 Unit

Name

Holy King Arthur
Attribute
Light
Cost
50
No.
296
Rarity
★6
Race
Human
Max Lv
99
Basic Stats

Initial HP

1450

Final HP

2829
Exp Type
Type 5
Exp Curve
5000000
Initial ATK
1560
Final ATK
2888
Fodder Exp
Lv.*2500
Price
Lv.*850
Skills
Leader Skill
Name
Huma-Rise: Assault III
Effect
2.5x ATK to Human type units
Active Skill
Name
Holy Grail
Default Cooldown
53
Min Cooldown
35
Effect
HP becomes 1, and deals Light damage equal to 100x user's ATK to all enemies. Affected by enemy element and defense.
Normal Skill 1
Name
Excalibur: Revolve
Activation
Effect
Extra Large Light damage to a single enemy.
(3.0x ATK)
Normal Skill 2
Name
Divine Crown
Activation
Effect
Super Extra-Large Light damage to all enemies.
(2.8x ATK)
Passive Skill
Name
Effect
How to Obtain
Friend Scratch
No
Rare Scratch
No
Other
Evolved from Arthur
Dungeon
Evolution
Friend Race
Friend Level
Friend Element
Evolution Quest
Any
Lv.40+
Light
Trial of Light: Holy Class (光の試練: 聖級)
Link Bonus
Min Lv.: HP+193 ATK+24


Max Lv.: HP+746 ATK+93

Link Race Bonus
HP+250 ATK+5%
Link Skill
{{{link skill}}}
Link Passive
Link Boost Up
Increases the chance of BOOST panels
A maximum of 2 may appear in battle.
Link Material
Link Cost as Base Unit
282936
Unlink Cost as Base Unit
16976
Story
始まった黄昏の審判、約束された未来、統合の先にある融合、全ては自分の為にあったんだ、男は自らが聖王だと声高らかに名乗りを上げた。左手には見つけた鍵を、右手には【エクスカリバー:リボルブ】を、寄り添う12の聖なる銃と共に、開かれた扉のその先へ。聖王アーサーとして、聖暦の王の責務を果たす為に。
The Twilight Judgment that had begun, the Promised Future, the harmony beyond the merging, it was all for him; the man claiming to be the Holy King raised his voice and introduced himself. In his left hand the key that was found, and in his right hand 【Excalibur: Revolve】, he stood close together with his 12 Holy Knights,and moved towards the opened gates. As Holy King Arthur, he had to fulfill his duties as the King of the Holy Age.
---
Community content is available under
CC-BY-SA
unless otherwise noted.