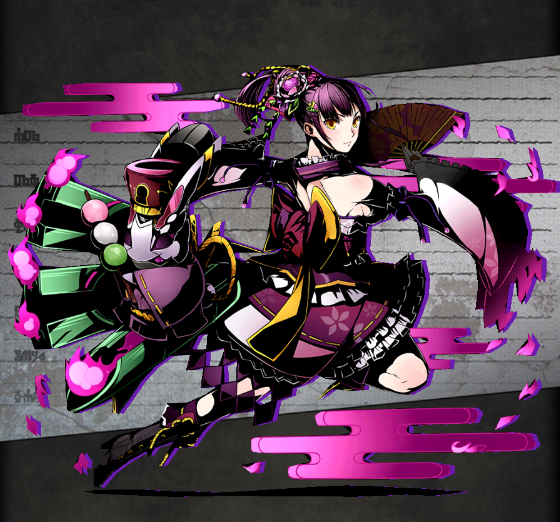 Unit

Name

Kaguya, the Purple Empress
Attribute
Dark
Cost
20
No.
268
Rarity
★6
Race
Demon
Max Lv
99
Basic Stats

Initial HP

1366

Final HP

2440
Exp Type
Type 5
Exp Curve
5000000
Initial ATK
472
Final ATK
1436
Fodder Exp
Lv.*1750
Price
Lv.*650
Skills
Leader Skill
Name
Demon Rise: Assault II
Effect
2x ATK to Demon units.
Active Skill
Name
Tale of Bamboo
Default Cooldown
30
Min Cooldown
15
Effect
Deal Dark type damage equal to 35x user's ATK to all enemies. Affected by enemy element and defense.
Normal Skill 1
Name
Mitarashi Gekkou
Activation
Effect
Dark Damage to a single enemy.
(1.6x ATK)
Normal Skill 2
Name
Activation
Effect
Passive Skill
Name
Counter: Dark V
Effect
In rare cases (Trigger Rate:18%), 50% of damage received is dealt back in Dark damage.
How to Obtain
Friend Scratch
No
Rare Scratch
No
Other
Evolved from Kaguya
Dungeon
Evolution
Friend Race
Friend Level
Friend Element
Evolution Quest
Any
Lv.40+
Dark
Trial of Darkness: Holy Class (闇の試練: 聖級)
Link Bonus
Min Lv.: HP+0 ATK+105


Max Lv.: HP+0 ATK+406

Link Race Bonus
ATK+10%
Link Skill
{{{link skill}}}
Link Passive
Link Counter: Dark
In rare cases (Trigger Rate:10%),
50% of damage received is dealt back in Dark damage.
Link Material
Link Cost as Base Unit
114974
Unlink Cost as Base Unit
6898
Story
竹を揺らす風、わずかな葉音だけが響き渡る静寂の夜、欠けた月が満ちる頃。受け継がれた紫の王衣に袖を通した彼女が【ミタラシ・ゲッコー】と共に詠みはじめる歌。月下に舞い踊る願いの言の葉。今宵、十五夜に紡ぎ出された歌、それは、満ちたての月が照らし出した、紫の女王カグヤの、はじまりの歌。
Bamboo leaves swaying in the wind, caressed by the shake of the silent night, this time the moon was full. Having inherited a purple dress, along with her driver [Mitarashi Gekkou] she chanted a poem. Singing and dancing in the moonlight. Tonight, the song she sang to the mid-autumn moon, the light of the full moon shining on, was Kaguya's first song as the Purple Empress.
---
Community content is available under
CC-BY-SA
unless otherwise noted.