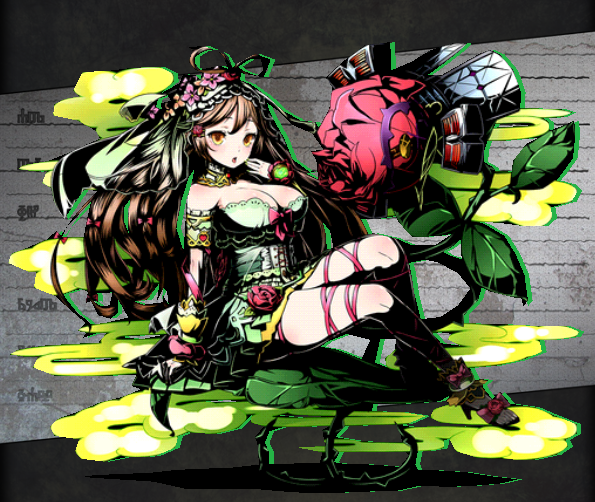 Unit

Name

Briar Rose, the Green Empress
Attribute
Wind
Cost
20
No.
264
Rarity
★6
Race
Demon
Max Lv
99
Basic Stats

Initial HP

1470

Final HP

2625
Exp Type
Type 5
Exp Curve
5000000
Initial ATK
461
Final ATK
1402
Fodder Exp
Lv.*1750
Price
Lv.*650
Skills
Leader Skill
Name
Demon Rise: Assault II
Effect
2x ATK to Demon units.
Active Skill
Name
Sleep Beauty
Default Cooldown
30
Min Cooldown
15
Effect
Delays the enemies' next turn by 4.
Normal Skill 1
Name
Bramble Solar
Activation
Effect
Wind Damage to a single enemy.
(1.6x ATK)
Normal Skill 2
Name
Activation
Effect
Passive Skill
Name
Counter: Wind V
Effect
In rare cases (Trigger Rate:18%), 50% of damage received is dealt back in Wind damage.
How to Obtain
Friend Scratch
No
Rare Scratch
No
Other
Evolved from Briar Rose
Dungeon
Evolution
Friend Race
Friend Level
Friend Element
Evolution Quest
Any
Lv.40+
Wind
Trial of Wind: Holy Class (風の試練: 聖級)
Link Bonus
Min Lv.: HP+126 ATK+42


Max Lv.: HP+488 ATK+162

Link Race Bonus
ATK+10%
Link Skill
{{{link skill}}}
Link Passive
Link Counter: Wind
In rare cases (Trigger Rate:10%),
50% of damage received is dealt back in Wind damage.
Link Material
Link Cost as Base Unit
114974
Unlink Cost as Base Unit
6898
Story
今日も眠れぬ夜がくる、緑の女王がこぼした溜息。開かれた扉、漏れ出した光が育ませたドライバ【ブランブル・ソーラー】。そしてイバラを深い眠りから、夢の世界から呼び覚ました。眠れる森の眠れる夜を求め、重い体を持ち上げて、彼女は審判の日へと歩き出す。深い、深い、眠りの為に、深い、深い、茨の道を。
Another night where she will be unable to sleep coming, the Green Empress sighs softly. Through an opened door, her driver [Bramble Solar] was nurtured with leaking rays of light. From her deep sleep, from her dream world, Briar Rose is awoken. To get back her sleeping nights in this sleeping forest, she lifts her heavy body, slowly gets up, and walks towards the Twilight Judgement. For her deep, deep sleep, she steps on a road of thick, thick thorns.
---
Community content is available under
CC-BY-SA
unless otherwise noted.