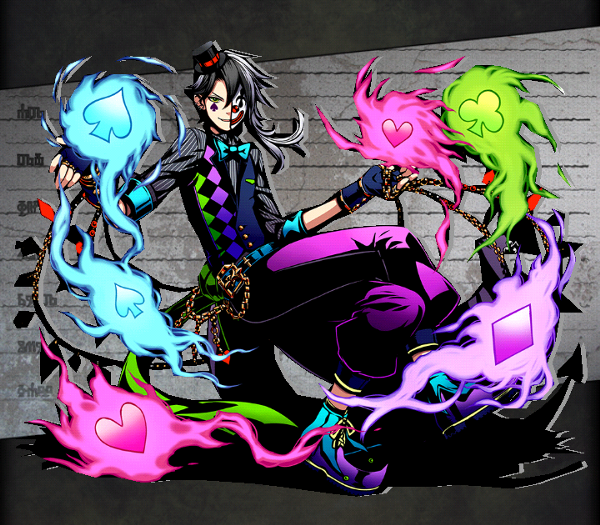 Unit

Name

Loki, the Mischief King
Attribute
Void
Cost
50
No.
218
Rarity
★6
Race
God
Max Lv
99
Basic Stats

Initial HP

1510

Final HP

3368
Exp Type
Type 5
Exp Curve
5000000
Initial ATK
756
Final ATK
1771
Fodder Exp
Lv.*2500
Price
Lv.*825
Skills
Leader Skill
Name
Trickster
Effect
Increases your attack power by 2.5x when you attack with three different elements.
Active Skill
Name
Remake Hands
Default Cooldown
13
Min Cooldown
3
Effect
Substitutes your current panels with random ones.
Normal Skill 1
Name
Phantom Pain
Activation
Effect
Large Void damage to a single enemy.
(2.3x ATK)
Normal Skill 2
Name
Lævateinn: Origin
Activation
Effect
Super-Extra Large Void damage to all enemies.
(2.8x ATK)
Passive Skill
Name
Effect
How to Obtain
Friend Scratch
No
Rare Scratch
No
Other
Evolved from Loki
Dungeon
Evolution
Friend Race
Friend Level
Friend Element
Evolution Quest
Void
Lv.40+
Any
Trial of Void: Holy Class (無の試練: 聖級)
Link Bonus
Min Lv.: HP+96 ATK+72


Max Lv.: HP+373 ATK+279

Link Race Bonus
Critical ATK+20%
Link Skill
{{{link skill}}}
Link Passive
Link Triple Assault
When attacking with three attributes or more in the same turn,
the unit's attack is increased by 1.5
Link Material
Link Cost as Base Unit
282936
Unlink Cost as Base Unit
16976
Story
こんなのただの悪戯さ。解除されたリミッター、暴れ出す自立兵器型ドライバ、彼が始めた神々のごっこ遊び。それこそが、黄昏の審判の始まり。悪戯王ロキは慌てふためく統合世界<ユナイティリア>に暮らす者全ての敵となった。聖なる入口<ディバインゲート>なら存在したね、彼はそう言い残し、姿を消した。
"This is just a prank." Its limiter released, the independent weapon driver began to go berserk, a make-believe play he started. That was the beginning of the Twilight Judgement. Mischief King Loki became the enemy of all living in the Merged World <Unitilia> that was struck with panic. "Well, the Holy Entrance <Divine Gate> did exist though" Leaving these words, he disappeared.
---
Community content is available under
CC-BY-SA
unless otherwise noted.