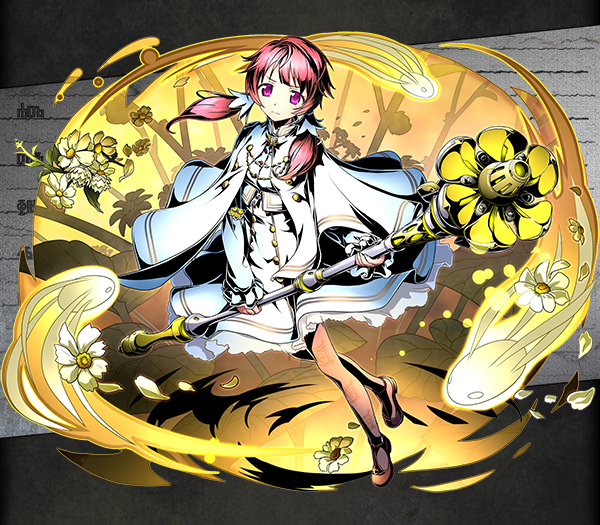 Unit

Name

Blossoming Fairy, Robin
Attribute
Light
Cost
35
No.
2098
Rarity
★7
Race
Fairy
Max Lv
99
Basic Stats

Initial HP

1844

Final HP

4150
Exp Type
Type 8Mil
Exp Curve
5000000
Initial ATK
1302
Final ATK
2344
Fodder Exp
Lv.*3000
Price
Lv.*3000
Skills
Leader Skill
Name
Blossoming Fairy
Effect
3x HP/2x ATK to Fairy type units. In addition, 1.5x ATK when Heal skills are activated.
Active Skill
Name
Fairy Night Dance
Default Cooldown
35
Min Cooldown
30
Effect
Deal Light type damage equal to 35x user's ATK to a single enemy and for 3 turns, attacks from Fairy type units are 3x stronger.
Normal Skill 1
Name
Flourish Pollen
Activation
Effect
Extra Large Light damage to a single enemy.
(3.0x ATK)
Normal Skill 2
Name
Heartful Raid
Activation
Effect
Super Immense Light damage to all enemies.
(4.0x ATK)

Characteristic: Deals Maximal Light damage (6.5x ATK) instead if allies defense is up.

Passive Skill
Name
Effect
How to Obtain
Friend Scratch
No
Rare Scratch
No
Other
Evolved from World Councilor, Robin
Dungeon
Evolution
Friend Race
Friend Level
Friend Element
Evolution Quest
Link Bonus
Min Lv.: HP+234 ATK+29


Max Lv.: HP+905 ATK+113

Link Race Bonus
HP+1000
Link Skill
{{{link skill}}}
Link Passive
Link Panel Up: Light Heart III
Increases Light and Heal panels' appearance rate by 4%.
Link Material
Link Cost as Base Unit
2597660
Unlink Cost as Base Unit
181836
Story
ごめんなさい、私が上手く出来なかったせいで。天界へ戻ったロビンはうつむいていた。ううん、あなたのせいじゃないよ。笑顔で迎える光妖精王。あぁ、嬢ちゃんはよくやった。ニヤリと笑みを浮かべる堕魔王。だから、これからもオレ達に協力してくれ。そして、そんな優しさに応えるため、巧咲精は武器を手にした。
"I'm sorry, it's because I wasn't good enough." Robin, who returned to the Sky World looked down. "No, it isn't your fault." The Light Fairy Queen greeted her with a smile. "Aah, the little lady did a fine job." The Fallen Demon Lord grinned. "So, cooperate with us from now on." In order to pay back their kindness, the Blossoming Fairy held her weapon.
---
Community content is available under
CC-BY-SA
unless otherwise noted.