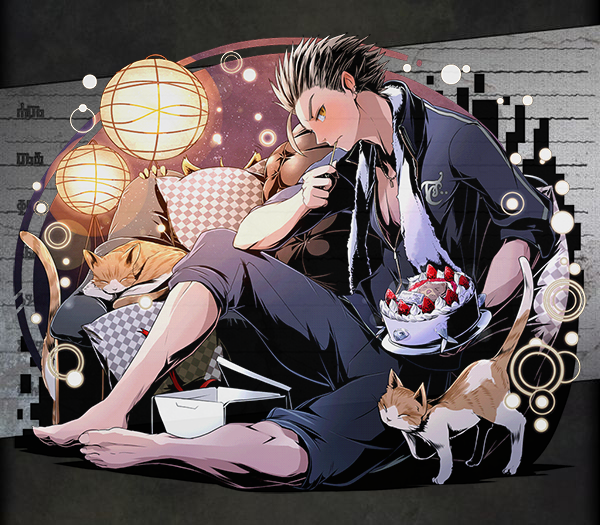 Unit

Name

Ginji: BD2016
Attribute
Void
Cost
40
No.
1852
Rarity
★6
Race
Human
Max Lv
99
Basic Stats

Initial HP

647

Final HP

2915
Exp Type
Type 5
Exp Curve
5000000
Initial ATK
708
Final ATK
3366
Fodder Exp
Lv.*2000
Price
Lv.*2000
Skills
Leader Skill
Name
Ginji Birthday 2016
Effect
2.5x HP/ATK for Human or Beast type units. In addition, 1.5x EXP upon clearing a quest.
Active Skill
Name
Innocent Mind
Default Cooldown
38
Min Cooldown
33
Effect
Deal Void type damage equal to 40x user's ATK to a single enemy, and reduces all enemies defense by 100% for 5 turns.
Normal Skill 1
Name
Happy Manma
Activation
Effect
Extra Large Void damage to a single enemy.
(3.0x ATK)
Normal Skill 2
Name
Activation
Effect
Passive Skill
Name
Unexpected Nekomimi
Effect
ATK power of all allies is increased by 1.5x when attacking with two or more attributes. (Does not overlap with other PS of the same effect)
How to Obtain
Friend Scratch
No
Rare Scratch

Yes

Other
Dungeon
Evolution
Friend Race
Friend Level
Friend Element
Evolution Quest
Link Bonus
{{{link bonus}}}
Link Race Bonus
HP+250 ATK+5%
Link Skill
{{{link skill}}}
Link Passive
Link Double Assault III
When attacking with two attributes or more in the same turn,
the unit's attack is increased by 1.4
Link Material
Link Cost as Base Unit
226948
Unlink Cost as Base Unit
13616
Story
トレーニングを終え、自室へと戻ってきたギンジの目の前にはケーキが置かれていた。そういや、忘れてたわ。そう、今日は四年に一度のギンジにとって大切な日。だが、少年はすぐに違和感に気がついた。このケーキ、生臭ぇな。そして、ソファの後ろに隠れた人影に気づかないフリをして、そっと呟いた。ありがとな。
Having finished his training, Ginji returned to find a cake placed in the center of his room. "That reminds me, I forgot." It was an important day for Ginji, which only came every four years. But, he felt a sense of discomfort immediately. "This cake has a fishy smell." He pretended not to notice the figure hidden behind the sofa, and muttered softly, "Thank you."
Trivia
He ranked 28th and 35th in the 5th and 6th official Divine Gate popularity polls.
He is a high school student.
His favorite food is ginkgo nuts.
He has an older and younger brother, Kinichi and Dōzō. While these names are tentative, all three mean gold (Kinichi), silver (Ginji), and bronze (Dōzō).
His homeland is the Far East Country, Japonesia. [1]
His fashion is vulgar domestic brands. [2]
He fell in love with Tokiwa before realising that Tokiwa was male.
[Divine Academy] Ginji profile: A young boy who transferred over from the school in the neighboring street. Although his personality is like a delinquent's, somehow old folks always asks him for directions. It seems like he is experiencing a forbidden love that he cannot tell anyone about. [3]
Gallery
---
Community content is available under
CC-BY-SA
unless otherwise noted.