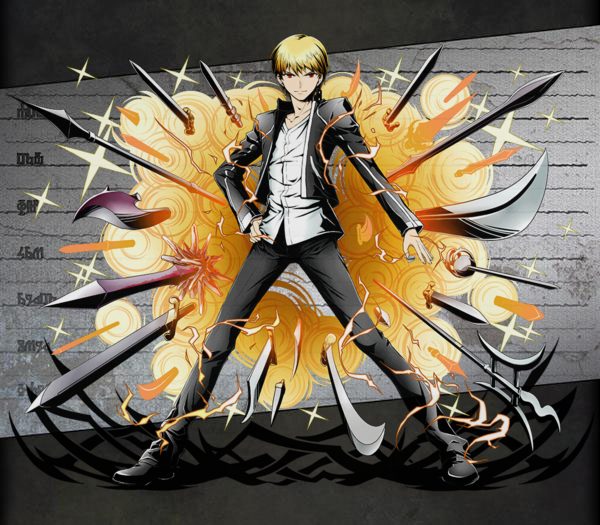 Unit

Name

King of Heroes: Gilgamesh
Attribute
Light
Cost
30
No.
1269
Rarity
★6
Race
God
Max Lv
99
Basic Stats

Initial HP

760

Final HP

3420
Exp Type
Type 5
Exp Curve
5000000
Initial ATK
573
Final ATK
2722
Fodder Exp
Lv.*630
Price
Lv.*500
Skills
Leader Skill
Name
Humanity's Oldest Hero
Effect
Increases your attack power by 7.5x when you activate four different attributes.
Active Skill
Name
I'll Only Allow Magnificent Things
Default Cooldown
33
Min Cooldown
28
Effect
Deal penetrating Light type damage equal to 20x user's ATK to all enemies, and recover amount dealt as HP. In addition, three panels from the left become Light panels.
Normal Skill 1
Name
King's Treasure
Activation
Effect
Extra Large Light damage to a single enemy.
(3.0x ATK)
Normal Skill 2
Name
Die Scattered Like Fallen Petals
Activation
Effect
Super Extra Large Light damage to a single enemy.
(4.5x ATK)


BOOST: For one turn the ATK power of all enemies is reduced to 40%.

Passive Skill
Name
Effect
How to Obtain
Friend Scratch
No
Rare Scratch
No
Other
Fate/stay night Limited Scratch
Dungeon
Evolution
Friend Race
Friend Level
Friend Element
Evolution Quest
Any
Lv.40+
Light
Trial of Light: Holy Class (光の試練: 聖級)
Link Bonus
Min Lv.: HP+177 ATK+22


Max Lv.: HP+682 ATK+85

Link Race Bonus
Critical ATK+20%
Link Skill
{{{link skill}}}
Link Passive
Link Quad Assault IV
When attacking with four attributes or more in the same turn,
the unit's attack is increased by 4x.
Link Material
Link Cost as Base Unit
170961
Unlink Cost as Base Unit
10257
Story
聖杯戦争の渦中に起きた不思議な扉の発生。その対象物の前に佇むギルガメッシュは徐に扉を見上げいた。自分の所有物であるこの世界に、不躾に下らぬものを創る無礼を許さず。そんな矜持を掲げ、不敵な笑みを浮かべながら扉のその先へ。その微笑には怒り、さらにはその先に待つ未知への興味と快楽も含んでいた。
The appearance of a gate within the chaos that is the Holy Grail War. Gilgamesh, standing in front of it, suddenly looked up. I shall not forgive the insolence of building such an uncouth and useless thing in this world that I own. By that arrogance, he went through the gate while smiling condescendingly. That smile also hinted of both indignant wrath and interest of the unknown pleasures beyond.
---
Community content is available under
CC-BY-SA
unless otherwise noted.