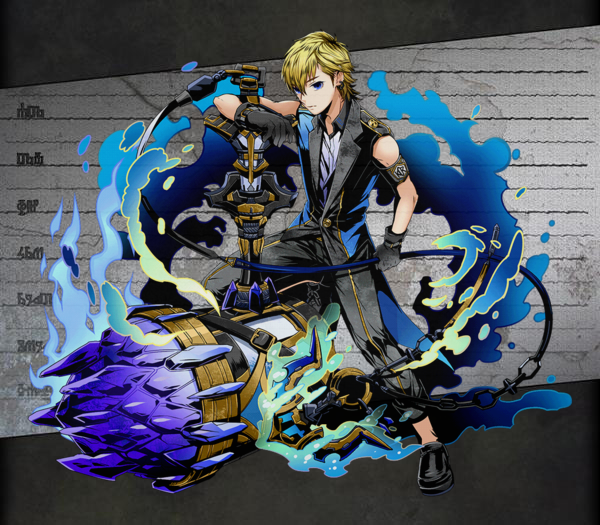 Unit

Name

Azul=Breunor
Attribute
Water
Cost
35
No.
1200
Rarity
★7
Race
Human
Max Lv
99
Basic Stats

Initial HP

1688

Final HP

3800
Exp Type
Type 8Mil
Exp Curve
8000000
Initial ATK
1333
Final ATK
2400
Fodder Exp
Lv.*3000
Price
Lv.*3000
Skills
Leader Skill
Name
Water Human Limit: Life Shift Ⅲ
Effect
3x HP/2.5x ATK to Water Human type units
Active Skill
Name
Le Noir
Default Cooldown
19
Min Cooldown
14
Effect
Delays the enemies turn by one and deals Water type damage equal to 30x user's ATK to all enemies. Affected by enemy element and defense.
Normal Skill 1
Name
Ex: Maledisant
Activation
Effect
Super Immense Water damage to a single enemy.
(8.0x ATK)
Normal Skill 2
Name
Activation
Effect
Passive Skill
Name
Dagonet
Effect
Water Panels have a 1.2x increase chance of appearance.
How to Obtain
Friend Scratch
No
Rare Scratch
No
Other
Evolved from Holy Knight Breunor
Dungeon
Evolution
Friend Race
Friend Level
Friend Element
Evolution Quest
Link Bonus
Min Lv.: HP+293 ATK+0


Max Lv.: HP+1131 ATK+0

Link Race Bonus
HP+500 ATK+10%
Link Skill
{{{link skill}}}
Link Passive
Link Panel Up: Aqua III
Increases Water panels' appearance rate by 15%.
Link Material
Link Cost as Base Unit
2597660
Unlink Cost as Base Unit
181836
Story
オレもアンタと一緒で、目を覚まさせたい人がいるんだ。アスルが告げた聖王代理の計画。聖戦を止める鍵となる聖王奪還へと向かった炎咎甲士と円卓の仲間。そして水を留めた少年は双子の弟との決着を、新しい隊服に袖を通した少年は帰らない王の為の鞘を、二人はそれぞれの思いで、教団本部へと向かったのだった。
"Like you, I also have someone I want to 'wake up'." Azul spoke of the Holy Agent's plans. The Flame Gauntlet-Wielding Criminal and a fellow knight had left to retrieve the key needed to stop the Holy War, the King. Then, the boy holding water who wanted to settle matters with his his younger twin brother, and the young boy in his new uniform who wanted to retrieve the scabbard of the King who wasn't coming back, both of them headed toward the cult's headquarters, each with their own goal in mind.
Trivia
He ranked 27th, and 28th in the 2nd and 3rd official Divine Gate popularity poll and 55th, and 28th in the 6th and 7th polls.
He takes his code name after the knight of Arthurian legend, Sir Breunor. His AS "La Cote Mal Taillée" (of the badly-fitting coat) is Sir Breunor's nickname. His NS1 "Maledisant" is the name of a damsel in Le Morte d'Arthur, while his NS2 "Bienpensant" is a reference to said damsel's new name at the end of the story.

In his re-awoken form, his AS "Le Noir" is Sir Breunor's title and his PS "Dagonet" is named after King Arthur's jester whom Sir Breunor defeats in a joust.

He is called "Chibi" by Arthur, poking fun at his small stature.
Although not given his own unit for the April Fools event he takes the role of a member of the hammer throwing club who hangs out with Ice Edge, Aoto, and Schrödinger on rainy days.
Gallery
---
Community content is available under
CC-BY-SA
unless otherwise noted.