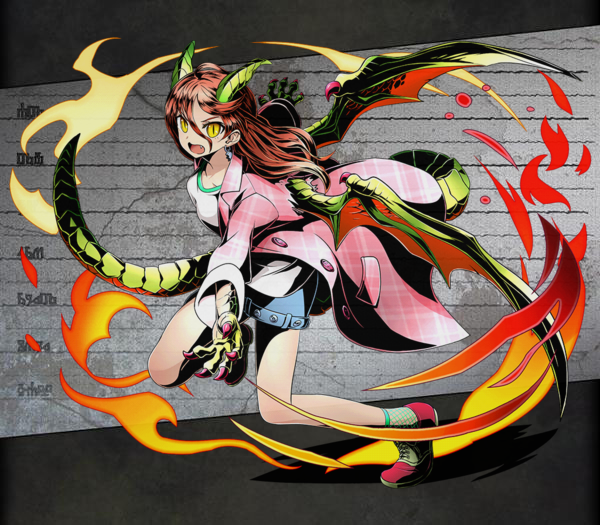 Unit

Name

Fake Fire Dragon, Ferno
Attribute
Fire
Cost
20
No.
1164
Rarity
★6
Race
Dragon
Max Lv
99
Basic Stats

Initial HP

838

Final HP

2307
Exp Type
Type 4
Exp Curve
3500000
Initial ATK
749
Final ATK
1664
Fodder Exp
Lv.*1750
Price
Lv.*650
Skills
Leader Skill
Name
Dragon Rise: Assault III
Effect
2.5x ATK to Dragon units.
Active Skill
Name
Drago Flame
Default Cooldown
23
Min Cooldown
8
Effect
Deal Fire type damage equal to 10x user's ATK to all enemies, and two panels from the right become Water panels.
Normal Skill 1
Name
Risky Flame
Activation
Effect
Fire damage to a single enemy.
(1.6x ATK)
Normal Skill 2
Name
Flame Wall
Activation
Effect
Super Extra Large Fire damage to a single enemy.
(4.5x ATK)


BOOST: Deal Fire type damage equal to 2x user's ATK to all enemies.

Passive Skill
Name
Effect
How to Obtain
Friend Scratch
No
Rare Scratch
No
Other
Evolved from Ferno
Dungeon
Reserve for Ferno
Evolution
Friend Race
Friend Level
Friend Element
Evolution Quest
Link Bonus
Min Lv.: HP+42 ATK+84


Max Lv.: HP+162 ATK+325

Link Race Bonus
BOOST ATK+15%
Link Skill
{{{link skill}}}
Link Passive
Link Panel Down: Aqua None
Decreases Water and Void panels' appearance rate by 4%.
Link Material
Link Cost as Base Unit
114974
Unlink Cost as Base Unit
6898
Story
偽りは炎か竜か。あぁ、私はいつ生まれたのか。徐々に失われる記憶。そして、徐々に失われる人としての肉体。そう、肉体ですらも人間であることを忘れ、竜に成り代わろうとしていた。上出来じゃないか。そんな偽炎竜に拍手を送る男。ようこそ、完全世界へ。そこにいたのは、砂上の楼閣に苦しむ教祖ではなかった。
Was the fire fake? Or was it the dragon? "Ahh, when was I born?" She gradually lost her memory. Then, she gradually lost her body as a human. Indeed, even her body forgot she was human as it tried to turn into a dragon. "Isn't it great?" A man applauded the fake fire dragon. "Welcome to the Complete World." The one there wasn't the Founder, who was suffering from this house of cards.
---
Community content is available under
CC-BY-SA
unless otherwise noted.