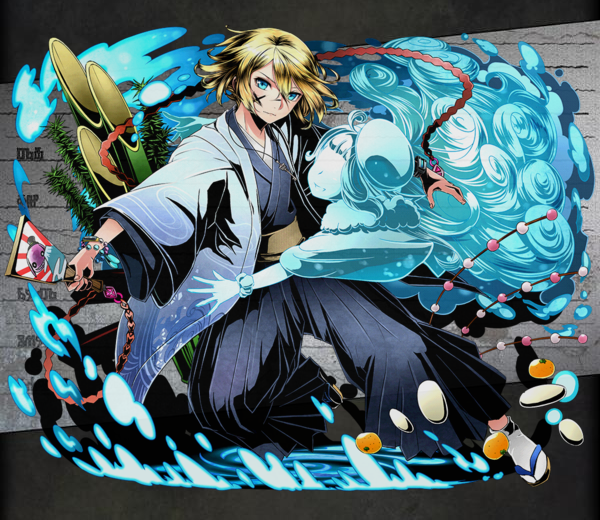 Unit

Name

Aoto: Sunday Best
Attribute
Water
Cost
30
No.
1065
Rarity
★6
Race
Human
Max Lv
99
Basic Stats

Initial HP

1748

Final HP

2942
Exp Type
Type 5
Exp Curve
5000000
Initial ATK
643
Final ATK
2842
Fodder Exp
Lv.*630
Price
Lv.*420
Skills
Leader Skill
Name
Happy New Year
Effect
2x HP and 2.5x ATK for Water type units. In addition, 1.5x ATK to Human type units.
Active Skill
Name
Absolute Sin
Default Cooldown
30
Min Cooldown
25
Effect
Heals 100% of total HP, and dispells abnormal states.
Normal Skill 1
Name
Hagoita: Dine
Activation
Effect
Extra Large Water damage to all enemies.
(2.5x ATK)
Normal Skill 2
Name
Purifying Water
Activation
Effect
Immense Water damage to a single enemy. (CRT+31%)
(6x ATK)
Passive Skill
Name
Effect
How to Obtain
Friend Scratch
No
Rare Scratch

Yes

Other
Dungeon
Evolution
Friend Race
Friend Level
Friend Element
Evolution Quest
Link Bonus
Min Lv.: HP+221 ATK+0


Max Lv.: HP+853 ATK+0

Link Race Bonus
HP+250 ATK+5%
Link Skill
{{{link skill}}}
Link Passive
Link Double Assault III
When attacking with two attributes or more in the same turn,

the unit's attack is increased by 1.4x

Link Material
Link Cost as Base Unit
170961
Unlink Cost as Base Unit
10257
Story
うん、良く似合ってるよ。それはお正月の出来事。息抜きも必要ですから。狐の一家に匿われたアオトは晴着に袖を通していた。そんな彼は石段から行き交う人波を眺めていた。もう、全部終わりにしてしまいたい。何度そう考えただろうか。でも、まだ、終われない。そして、この戦いで最後にすると誓ったのだった。
"Yeah, it suits you very well. Everyone needs to take a break once in a while. It's the New Year after all." Aoto was sheltered by the Fox family, and wore a haregi. He looked at the crowd coming and going from the stone steps. "I just want all of this to end." he has thought many times. But it still wasn't over. So, he will see it through to the end.
---
Community content is available under
CC-BY-SA
unless otherwise noted.