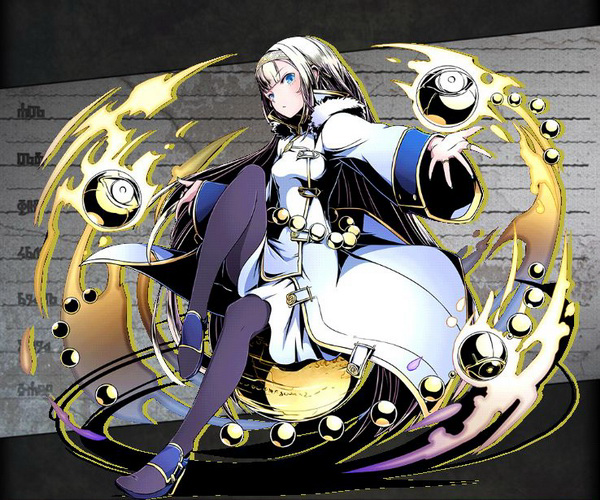 Unit

Name

Crowley
Attribute
Light
Cost
30
No.
1010
Rarity
★5
Race
Human
Max Lv
50
Basic Stats

Initial HP

813

Final HP

1790
Exp Type
Type 5
Exp Curve
883884
Initial ATK
539
Final ATK
1187
Fodder Exp
Lv.*275
Price
Lv.*230
Skills
Leader Skill
Name
Light Human Rise: Shift II
Effect
2x HP/ATK for Human and Light-type units.
Active Skill
Name
Complete World
Default Cooldown
40
Min Cooldown
35
Effect
Deal Light type penetrating damage equal to 100x ATK to all enemies. Furthermore, reduce all enemies' attack by 60% for 4 turns.
Normal Skill 1
Name
Gaze
Activation
Effect
Small Light damage to a single enemy.
(1.0x ATK)
Normal Skill 2
Name
Billion Eyes
Activation
Effect
Super Extra Large Light damage to all enemies.
(2.8x ATK)
Passive Skill
Name
Effect
How to Obtain
Friend Scratch
No
Rare Scratch

Yes

Other
Dungeon
Evolution
Friend Race
Friend Level
Friend Element
Evolution Quest
Any
Lv.35+
Light
Trial of Light: Legend (光の試練: 神級)
Link Bonus
Min Lv.: HP+131 ATK+16


Max Lv.: HP+320 ATK+40

Link Race Bonus
HP+200 ATK+4%
Link Skill
{{{link skill}}}
Link Passive
{{{link passive}}}
Link Material
Link Cost as Base Unit
16562
Unlink Cost as Base Unit
828
Story
クロウリーは言った。世界は完全であるべきだと。完全という言葉が何を意味しているのか、それは団員でさえも確証を得てはいなかった。ただ、その真っ直ぐな瞳が見つめる未来を見たい、見てみたい、そんな想いが集まっていたのだった。神に救いを求めよ。だが、そんな言葉を発した少女は、紛れも無く人間だった。
"The world should be perfect," Crowley has said. Not even the members of the cult knew the meaning behind the word "perfect". Those who want to see this future have assembled under the symbol of a pair of eyes. "Pray to the Gods for salvation." However the girl who ushered these words was without a doubt human.
Trivia
She ranked 1st place twice in the 6th and 7th Divine Gate popularity polls.
Her cup size is B.
She is older than Ariton (though she doesn't know her age).
She wants to fluff Amaymon's tail.
She gets into fights with Amaymon whenever she asks for a handshake from him.[1]
She gets glared at whenever she gives Amaymon a bone.[2]
Founder of the Grimoire Cult scheming to make a "Complete World". However, she didn't choose to be the Founder herself. The young girl has been raised as the Founder as soon as she gained awareness. Her interest in the outside world seems to be fueled by a yearning for it. She is just a really ordinary girl.
As the Founder, she had to behave like one. She had continued to live in pain. However, she was able to keep her role thanks to four important people by her side.
Her joy, which is to dress up, was taught to her by the East Devil Queen. Her anger was always received by the North Devil King. In times of loneliness, she would sink in the South Devil Queen's large chest. When she was having fun, the West Devil King would smile for her. Indeed, she treasures the Devil Kings and Queens more than anyone else. The young girl was just an ordinary human being. [4]
Gallery
↑

Translation: "Those fools, unaware of this house of cards."

↑

Translation: "Those fools, unaware of this house of cards."
---
Community content is available under
CC-BY-SA
unless otherwise noted.