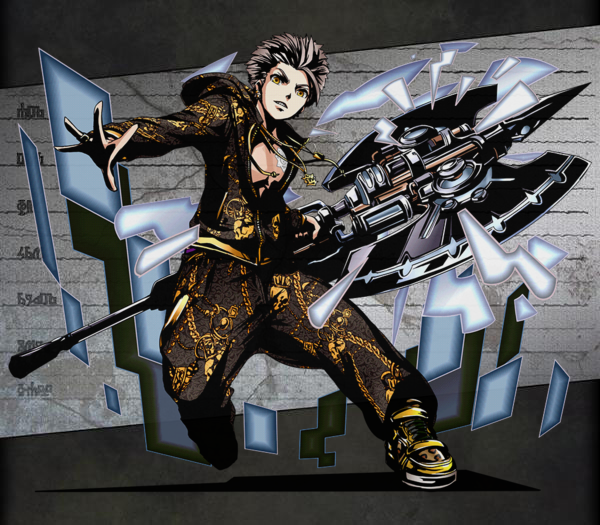 Unit

Name

Ginji, Axe-Wielder of the Naught
Attribute
Void
Cost
10
No.
024
Rarity
★6
Race
Human
Max Lv
99
Basic Stats

Initial HP

786

Final HP

2515
Exp Type
Type 4
Exp Curve
3500000
Initial ATK
445
Final ATK
1325
Fodder Exp
Lv*500
Price
Lv*200
Skills
Leader Skill
Name
None Rise: Assault II
Effect
2.0x ATK for Void type units.
Active Skill
Name
Hollow Impact
Default Cooldown
23
Min Cooldown
8
Effect
Deal Void type damage equal to 10x user's ATK to all enemies. Affected by enemy element and defense.
Normal Skill 1
Name
Yashahime : Miyabi
Activation
Effect
Large Void damage to a single enemy.
(2.3x ATK)
Normal Skill 2
Name
Struggle Vanitas
Activation
Effect
Small Void damage to all enemies.
(1.0x ATK)
Passive Skill
Name
Effect
How to Obtain
Friend Scratch
No
Rare Scratch
No
Other
Evolved from Ginji, Axe-Wielder of the Void
Dungeon
Evolution
Friend Race
Friend Level
Friend Element
Evolution Quest
Any
Lv.40+
Void
Trial of Void: Holy Class (無の試練: 聖級)
Link Bonus
Min Lv.: HP+80 ATK+60


Max Lv.: HP+309 ATK+232

Link Race Bonus
HP+250 ATK+5%
Link Skill
{{{link skill}}}
Link Passive
Link Double Assault
When attacking with two attributes or more in the same turn,
the unit's attack is increased by 1.1
Link Material
Link Cost as Base Unit
58987
Unlink Cost as Base Unit
3539
Story
無の生まれた真実を求め、地底郷<アガルタ>へ。他の5つとは異なる力、自分に与えられた力のみが持つ真実を。全てを知ったギンジは生まれ変わった【ヤ シャヒメ:ミヤビ】を携え、皆と同じ道を歩み出す。それは、交わったこの統合世界<ユナイティリア>の、交わってしまった、という事象を「無」に帰す為 に。
Seeking the truth begotten from Nothingness, Ginji headed for the Land of Subterranea, <Agartha>. It was a truth that only the power given to him, different from the other 5, held. Having learned everything, Ginji raised his reborn driver [Yashahime: Miyabi] aloft and joined everyone on their path, the path to "Void"ing the fusing phenomenon responsible for the Merged World <Unitilia>.
Trivia
He ranked 28th and 35th in the 5th and 6th official Divine Gate popularity polls.
He is a high school student.
His favorite food is ginkgo nuts.
He has an older and younger brother, Kinichi and Dōzō. While these names are tentative, all three mean gold (Kinichi), silver (Ginji), and bronze (Dōzō).
His homeland is the Far East Country, Japonesia. [1]
His fashion is vulgar domestic brands. [2]
He fell in love with Tokiwa before realising that Tokiwa was male.
[Divine Academy] Ginji profile: A young boy who transferred over from the school in the neighboring street. Although his personality is like a delinquent's, somehow old folks always asks him for directions. It seems like he is experiencing a forbidden love that he cannot tell anyone about. [3]
Gallery
---
Community content is available under
CC-BY-SA
unless otherwise noted.