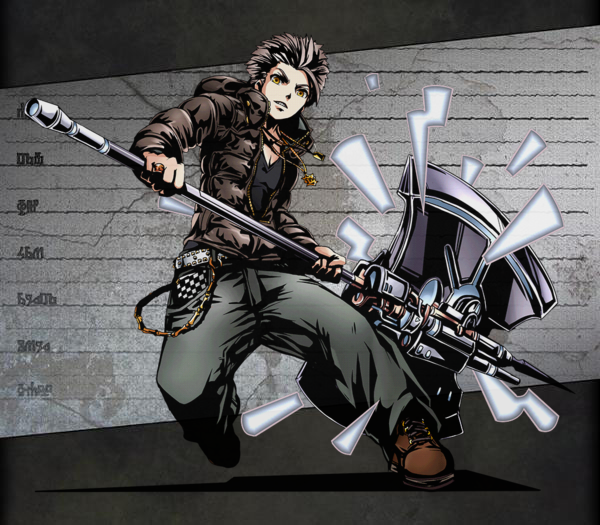 Unit

Name

Ginji, Axe-Wielder of the Void
Attribute
Void
Cost
6
No.
023
Rarity
★5
Race
Human
Max Lv
35
Basic Stats

Initial HP

398

Final HP

1274
Exp Type
Type 3
Exp Curve
132934
Initial ATK
206
Final ATK
794
Fodder Exp
Lv*350
Price
Lv*150
Skills
Leader Skill
Name
None Rise: Assault
Effect
1.5x ATK for Void type units.
Active Skill
Name
Hollow Impact
Default Cooldown
23
Min Cooldown
8
Effect
Deal Void type damage equal to 10x user's ATK to all enemies. Affected by enemy element and defense.
Normal Skill 1
Name
Yashahime : Sanshiki
Activation
Effect
Large Void damage to a single enemy.
(2.3x ATK)
Normal Skill 2
Name
Struggle Vain
Activation
Effect
Small Void damage to all enemies.
(1.0x ATK)
Passive Skill
Name
Effect
How to Obtain
Friend Scratch
No
Rare Scratch
No
Other
Evolved from Axe-Wielder Ginji
Dungeon
Evolution
Friend Race
Friend Level
Friend Element
Evolution Quest
Any
Lv.25+
Void
Trial of Void: Legend (無の試練: 神級)
Link Bonus
Min Lv.: HP+56 ATK+42


Max Lv.: HP+111 ATK+83

Link Race Bonus
HP+200 ATK+4%
Link Skill
{{{link skill}}}
Link Passive
{{{link passive}}}
Link Material
Link Cost as Base Unit
5312
Unlink Cost as Base Unit
265
Story
我は想ふ、無とはこの世の理なり。我は問う、果たしてそれが真実か。無の起源<オリジン>でありながら、自分の出生すら知らない無を司る精霊に諭されるが 如く、無の持つ意味に疑問を感じるギンジ。全てを無に帰すという黄昏の審判の真意を見極めに、【ヤシャヒメ:参式】と共に常界<テラスティア>へと。
I ponder, that Nothingness is an unshakable facet of this world. And I question, is that truly the case? Despite being the <Origin> of Nothingness, the Spirit of Void knew not even how she herself came into being. Under her admonishment and guidance, Ginji began to question his own understanding of Nothingness. With [Yashahime: Sanshiki] in tow, he headed for the Common World <Terrastia>. There, he hoped to discover the true intentions behind the plan to return everything to nothing, the Twilight Judgement.
Trivia
He ranked 28th and 35th in the 5th and 6th official Divine Gate popularity polls.
He is a high school student.
His favorite food is ginkgo nuts.
He has an older and younger brother, Kinichi and Dōzō. While these names are tentative, all three mean gold (Kinichi), silver (Ginji), and bronze (Dōzō).
His homeland is the Far East Country, Japonesia. [1]
His fashion is vulgar domestic brands. [2]
He fell in love with Tokiwa before realising that Tokiwa was male.
[Divine Academy] Ginji profile: A young boy who transferred over from the school in the neighboring street. Although his personality is like a delinquent's, somehow old folks always asks him for directions. It seems like he is experiencing a forbidden love that he cannot tell anyone about. [3]
Gallery
---
Community content is available under
CC-BY-SA
unless otherwise noted.