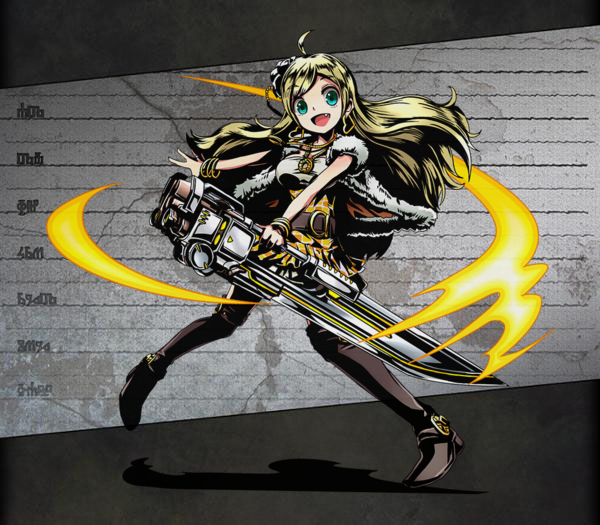 Unit

Name

Hikari, Sword-Wielder of the Light
Attribute
Light
Cost
6
No.
015
Rarity
★5
Race
Human
Max Lv
35
Basic Stats

Initial HP

374

Final HP

1230
Exp Type
Type 3
Exp Curve
132934
Initial ATK
204
Final ATK
790
Fodder Exp
Lv*350
Price
Lv*150
Skills
Leader Skill
Name
Light Rise: Assault
Effect
1.5x ATK for Light type units.
Active Skill
Name
Luminous Ray
Default Cooldown
23
Min Cooldown
8
Effect
Deal Light type damage equal to 10x user's ATK to all enemies. Affected by enemy element and defense.
Normal Skill 1
Name
Lumière: Trois
Activation
Effect
Large Light damage to a single enemy.
(2.3x ATK)
Normal Skill 2
Name
Holy Sunset
Activation
Effect
Small Light damage to all enemies.
(1.0x ATK)
Passive Skill
Name
Effect
How to Obtain
Friend Scratch
No
Rare Scratch
No
Other
Evolved from Sword-Wielder Hikari
Dungeon
Evolution
Friend Race
Friend Level
Friend Element
Evolution Quest
Any
Lv.25+
Light
Trial of Light: Legend (光の試練: 神級)
Link Bonus
Min Lv.: HP+112 ATK+14


Max Lv.: HP+223 ATK+27

Link Race Bonus
HP+200 ATK+4%
Link Skill
{{{link skill}}}
Link Passive
{{{link passive}}}
Link Material
Link Cost as Base Unit
5312
Unlink Cost as Base Unit
265
Story
光を司る精霊は告げる、お帰りなさい、と。それはヒカリが混種族<ネクスト>であると共に、皆とは異なる本当の人間ではないという証明。気付いていた真実、用意していた笑顔、新たなドライバ【リュミエール:トロワ】を手に笑ってみせる。だけどそれは、自分の為じゃなく、皆の笑顔を曇らせたくはなかったから。
From the Spirit of Light came the words, "Welcome home". Those words were proof that Hikari was of the mixed race <Next>, and not a true human like everyone else. Having already come to this realization, Hikari put on the smile she had prepared, took her new driver [Lumière: Trois] in hand, and laughed. Not for herself, but because she didn't want to cloud the smiles of the people around her.
Trivia
She ranked 14th, 25th, and 36th in the first 3 official Divine Gate popularity polls consecutively, and 7th, 10th, and 13th in the 5th, 6th, and 7th popularity polls.

Hikari: Halloween ranked 16th and 49th in the 5th and 6th popularity polls.

She is a high school student.
Her cup size is E.
Her favorite food is orange, but she also shows a strong fondness for crepes.
Gallery
---
Community content is available under
CC-BY-SA
unless otherwise noted.