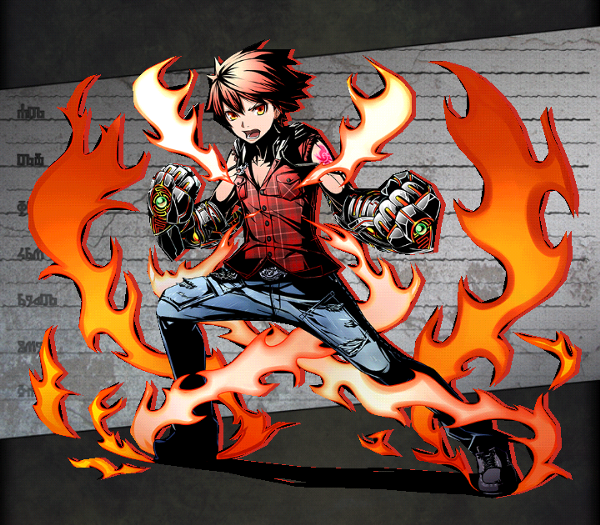 Unit

Name

Akane, Gauntlet-User of the Blaze
Attribute
Fire
Cost
10
No.
004
Rarity
★6
Race
Human
Max Lv
99
Basic Stats

Initial HP

778

Final HP

2147
Exp Type
Type 4
Exp Curve
3500000
Initial ATK
429
Final ATK
1506
Fodder Exp
Lv*500
Price
Lv*200
Skills
Leader Skill
Name
Fire Rise: Assault II
Effect
2x ATK for Fire type units.
Active Skill
Name
Lava Nova
Default Cooldown
23
Min Cooldown
8
Effect
Deal Fire type damage equal to 10x user's ATK to all enemies. Affected by enemy element and defense.
Normal Skill 1
Name
Ignite: Homura
Activation
Effect
Large Fire damage to a single enemy.
(2.3x ATK)
Normal Skill 2
Name
Megiddo Inferno
Activation
Effect
Small Fire damage to all enemies.
(1.0x ATK)
Passive Skill
Name
Effect
How to Obtain
Friend Scratch
No
Rare Scratch
No
Other
Evolved from Akane, Gauntlet-User of the Flame
Dungeon
Evolution
Friend Race
Friend Level
Friend Element
Evolution Quest
Any
Lv.40+
Fire
Trial of Fire: Holy Class (炎の試練: 聖級)
Link Bonus
Min Lv.: HP+40 ATK+80


Max Lv.: HP+154 ATK+309

Link Race Bonus
HP+250 ATK+5%
Link Skill
{{{link skill}}}
Link Passive
Link Double Assault
When attacking with two attributes or more in the same turn,
the unit's attack is increased by 1.1
Link Material
Link Cost as Base Unit
58987
Unlink Cost as Base Unit
3539
Story
仕組まれた運命、歩かされてきた道、立ち塞がる壁、見せつけられた力の差、消えかける心の灯火。哀傷のままに誘われたのは火想郷<アルカディア>。全てを受け入れ、そして再び炎を灯すアカネ。生まれ変わった相棒【イグナイト:ホムラ】と共に、今度は自らの意思で、自らの拳で、新たな戦いの狼煙をあげた。
A fate pushed upon him, a road he was forced to walk. His path obstructed, he was shown their difference in strength, and his blazing heart waned to a flicker. Dejected, Akane found himself in the Palace of Flame<Arcadia>.[1] It was there, that he came to terms with himself and rekindled his inner flame. With his partner【Ignite: Homura】 reborn anew, Akane cast himself back into the fray, this time of his own volition, and with his own fists.
↑

direct translation of the name of Arcadia is "Fire Memory"
Trivia
He ranked 16th, 28th, and 27th in the first 3 official Divine Gate popularity polls consecutively, and 11th, 18th, and 16th in the 5th, 6th, and 7th popularity polls.
He is a high school student.
He lived with his mother.
His favorite food is chilled tomato. His specialty is making chilled tomato.
His fashion is American casual. [1]
[Divine Academy] Akane profile: Contrary to his appearance, he is a family-oriented young boy as he lives together with his mother. He especially likes chilled tomato, and his specialty is making chilled tomato. In reality, he has some kind of relation with his science teacher, Pavlov...? [2]
Gallery
---
Community content is available under
CC-BY-SA
unless otherwise noted.