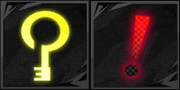 Guerrilla Bosses are units that wander in a specific quest at a given time, and can randomly appear on a ! or ? square during that quest. Defeat them, and you might be able to obtain them.
Below are listed the guerrilla bosses that can be found in the Story Areas. Check the front page's timetable to see which one is currently active,where and when.
Information about guerrilla bosses from events can be found on their respective event pages.
Juraj, the King of Robin Hoods
| Boss | Attack | HP | Defense | Turn(s) | Drop | Drop Rate | + Drop Rate | Location |
| --- | --- | --- | --- | --- | --- | --- | --- | --- |
| | 125 | 8890 | 40 | 1 | | 50% | | Infantalia Town |
Inari, the Sorceress Fox
Jack the Ripper
Miss Pluralistic Cosmo
| Boss | Attack | HP | Defense | Turn(s) | Drop | Drop Rate | + Drop Rate | Location |
| --- | --- | --- | --- | --- | --- | --- | --- | --- |
| | 13458 | 561892 | 777 | 1 | | 50% | 0.5% | Saturn Lounge, Moon Lounge |
Dos:Goldorado
| Boss | Attack | HP | Defense | Turn(s) | Drop | Drop Rate | + Drop Rate | Location |
| --- | --- | --- | --- | --- | --- | --- | --- | --- |
| | 3254 | 55 | 5000000 | 3 | | 50% | 0.5% | Topaz Tower, Aurora Tower |
Loki, the Mischief King
Divine Droid
| Boss | Attack | HP | Defense | Turn(s) | Drop | Drop Rate | + Drop Rate | Location |
| --- | --- | --- | --- | --- | --- | --- | --- | --- |
| | 88 | 888 | 0 | 1 | | 70% | | Windalia Town |
Nitro, the Compound Dragon
Divine Droid Mk-II
| Boss | Attack | HP | Defense | Turn(s) | Drop | Drop Rate | + Drop Rate | Location |
| --- | --- | --- | --- | --- | --- | --- | --- | --- |
| | 88 | 888 | 0 | 1 | | 70% | | Darktalia Town |
Gilgamesh, the Queen of Conquerors
Jester Baum
Headmaster Riina